21st-Century Wine Seller
by Jenny Owen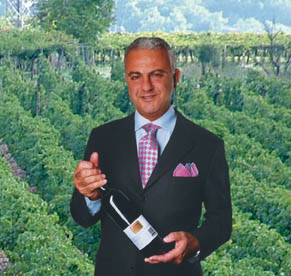 At the 2007 Global Alumni Conference in Florence, alumnus Leonardo LoCascio participated in a panel discussion on Italian wines. STERNbusiness spoke with this wine connoisseur and distributor.
Known for putting Italian wines on the American map, Leonardo LoCascio (BS '71) is also considered one of the "visionaries in America who are not only changing the way we think about wine but also determining what we'll be drinking in the 21st century," as Food and Wine noted when it awarded the native of Palermo, Italy, its highly coveted Golden Grape Award in 1998. The president and CEO of Winebow, Inc., a leading importer of premium Italian wines and a major distributor of wines from around the world, LoCascio has made it his business to select high quality wines of good value.
His Winebow portfolio represents more than 70 estates throughout the major wine regions of Italy and contains 3,000-plus wines from around the world. But the Leonardo LoCascio Selections logo most reflects his personal taste and appears only on his prized Italian imports. For every wine he selects for this collection, he turns down dozens. "Wine for me is more than just a beverage in the bottle," explained the former banker. When selecting wines, he looks for those that "make a statement, that get people's attention, that aren't like a lot of other wines. I'm looking for the purity of flavors, for winemakers who don't filter out the taste," he said.
"We have a big portfolio of wines from lesser known producers and from outside the traditional appellations," LoCascio added. "So the idea of having my name on every bottle of wine is to give consumers a roadmap or a common thread through Leonardo LoCascio Selections. If they had a good experience with one of my wines, they are more inclined to try another."
Working with family wineries and searching for unique, affordable wines is another key component of his strategy. "I like to find wines that over-deliver in terms of the relationship between price and quality. We've often found these by going to the more obscure regions of Italy," said LoCascio. "And it's important to have in my portfolio wines that come from families as opposed to large conglomerates. I find it important to get to know the people you're doing business with."
In 1980, LoCascio left a successful career in corporate finance to launch Winebow. At the time, he was a vice president at Citibank, after having worked at Rockwell Financial and McKinsey & Company. His intentions were always to own and run a company. Entrepreneurship is in his DNA – his father and his grandfather owned a citrus business. LoCascio said he initially came to the States and to NYU intending to get a degree and then to go back and take over the family business. "But when I was here, I got interested in living in the States, and in gaining some work experience here," he said. By the time he was ready to flex his entrepreneurial muscle, his father had sold the family company and LoCascio had become interested in imported foods and beverages.
LoCascio was attracted to wine because of its "simplicity and sophistication." He also saw a business opportunity. "Americans were on the cusp of making wine a part of their lifestyle. At the time, they were drinking a lot of beer and hard liquor. California wines were hardly on the map," he said. "But wine was part of life in most Western countries. Americans, when they went to Europe, enjoyed it and I could not understand why it was not part of the lifestyle when they came back. My bet was that it was going to become part of the American lifestyle."
LoCascio bet correctly. As an Italian, he was uniquely positioned to build a business around Americans' demand for Italian goods. "Americans have had a love story with Italy. Things made in Italy were well-received here – fashion, design, food," he said.
Winebow wasn't an instant success. LoCascio said it took 10 years before the business looked like it was going to succeed financially. "Despite my academic and professional training, I started my business as many entrepreneurs do, without adequately capitalizing it," he said. "In the initial years, the biggest struggle was convincing the banks that it was worthwhile to finance the growth of my business."
So his advice for aspiring entrepreneurs is to "work not only on the concept of what you want to do, but also on having funds. It takes patience and discipline to capitalize the business properly." He also advises, "Have tenacity. Stay focused on what you're building – you really have to believe that it will work out. In my case, I had two young children and two mortgages, so failure was not an option."
Winebow's success today is due not only to LoCascio's tenacity and his prudent wine selection process, but also to his business model. In the US, the wine business is regulated by the states, and laws do not allow restaurants, retailers, or consumers to buy wine directly from suppliers – they must buy from local distributors. These regulations have generated a three-tier business: the point of contact with the consumer (retailer or restaurant), the local distributor, and the supplier (winery or importer). LoCascio's model has been to "try, within the regulations in which we operate, to shorten this chain and to be both an importer and a distributor within six markets: New York, New Jersey, Connecticut, Massachusetts, Pennsylvania, and Washington, DC," he explained. "This has given us extra margins, and most important, the ability to execute on our own products, as opposed to having to convince a local distributor to buy our wines over another importer's."
New York City is Winebow's largest market. "It's a sophisticated city – there are a lot of people who love wine and want to learn more," LoCascio explained. "There is also a strong international community with tourists and expatriates – which all make for a great place to do business. And new restaurants open every day, which become new customers."
What can America expect next from this wine visionary? Three years ago,Winebow partnered with Freeman Spogli, a privaty equity firm that specializes in the distribution business. Together the two are negotiating the purchase of distributors in additional markets. "We want to be in as many markets as it makes economic sense," LoCascio said. The company is also expanding its import footprint. It branched beyond Italy and into Spain and South America a few years ago, and is currently looking at Portugal. "We are always interested in expanding our horizons," he said. But will Americans be as receptive to expanding their own wine palates? If Food and Wine magazine is right, it's Leonardo LoCascio who determines what we'll be drinking in the 21st century.
Passion for Fashion
by Rika Nazem
It can take decades for a fashion company to build brands that are described as sophisticated and classic. But Julie Chaiken (MBA '93), who founded Chaiken Clothing in July 1994, has needed only a single decade. With clients such as Gwyneth Paltrow and Cameron Diaz, it's easy to see why this fashion line has continued to gain momentum in an industry with a clientele that can be tough to please. Just take a look at the fall collection and you'll see beautiful, affordable clothes for both work and play that women love to wear. Chaiken views herself as a client of her own line and, as such, designs clothes that fit her lifestyle.
Chaiken has always had a passion for fashion. "In the early 1990s, I remember talking with a group of friends about fashion and what was available at the time," she explained. "The clothing choices for professional women were remnants of the 1980s when women were wearing bad blue suits. My friend and I decided to do something about it. I always wanted to run my own business someday and it just seemed like the right fit." Chaiken wanted to design versatile clothes for the professional woman and jumped into the business by asking questions. "I needed to obtain a business license, find a factory to manufacture the clothes, and negotiate with the factory," she said. "There was a huge learning curve, but I had tenacity and just kept asking questions until I figured it out."
In the beginning, Chaiken thought that she could do it all – design and make the clothes, attend trade shows, and work directly with customers as her own sales representative. "After two weeks, I realized that was a very bad idea – especially since, in those two weeks, I picked up the Barney's New York and Fred Segal accounts," she said. "I knew I was onto something but, at the time, didn't understand the scope of what we were starting. I wrote a business plan and within a month it didn't mean anything." Chaiken then hired a person to manage the factory and a sales team to interact with customers. "Within the first six months, we went from start-up to management mode, which we had talked about in business school as being a very tough transition to make."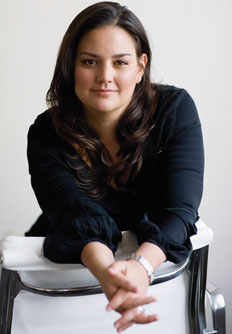 Chaiken's business acumen got her through the tough launch and transition phases. "Having an MBA in this industry definitely gives me credibility. I have been able to step back and take a breath, and evaluate situations I may have looked at differently otherwise," she said. "And the Stern credential is invaluable when I meet with bankers. They so often deal with creative types that have great ideas but not the business background. For instance, I can look at a licensing deal, and see the numbers and the business value in it. It's given me a much broader perspective on the business."
Success in the fashion business also requires "a lot of being in the right place at the right time, and a lot of offering the customer something she wants," added Chaiken. "You have to be out there. I still go to trade shows and meet with clients. Coming back from a recent trip, I remember talking to an investment banker on the plane. I asked him what he was doing and he replied that he came to shake a hand. It's so true – we can't forget that intangible of a face-to-face meeting," she said.
Building on her brand's success, Chaiken has expanded her well-known collection to include maternity wear, including a new mommy bag just out in stores, as well as an eyewear line that is due out next year. Her recently launched line, "Profile," is "a very fashion-forward line that will continue to push boundaries. The line caters to women who are interested in fashion but not necessarily interested in the trend of the moment," she said.
Despite spending the majority of her time in San Francisco, Chaiken draws a great deal of her inspiration from New York City. "Watching the people in the City is inspiring because there is so much individuality. People mix things differently. I love to go to the night clubs and look at what the kids are wearing," explained Chaiken. Museums and art exhibits also inspire her. "I'll see an exhibit and, 12 months later, you will see some element of that in the stores. I saw a fabric exhibit at the Neue Galerie and, a year later, I saw those prints coming into the market. Sometimes it's even just looking in the stores and seeing what other designers are doing that gets the juices flowing," she said.
Chaiken, who is the mother of two young children, has found a way to handle both roles. "I don't work a full schedule anymore – I scaled back so that I have time to be a CEO and a mother," she explained. She notes that a quote – "Nobody ever told me I couldn't have it all, they just forgot to tell me I couldn't have it all at once" – really resonates with her "because I could do it all but I couldn't do it all well. If I want to do well in my business and I want to be a good mother, I have to find time to do both," Chaiken added. "I really do love the life that I've built. It's that simple."