Robinson Garners Aspen Institute's Faculty Pioneer and Rising Star Award
Jeffrey Robinson, assistant professor of management at NYU Stern, in September was awarded an Aspen Institute 2007 Faculty Pioneer Award in the category of Academic Impact and was selected as the sole "Rising Star." The annual awards celebrate MBA faculty who have demonstrated leadership and risk-taking in integrating social and environmental issues into academic research, educational programs, and business practice.
Robinson was cited, in part, for his work analyzing the role of entrepreneurship in the rebuilding of New Orleans. In recent trips, he has documented the return of inner city businesses to the Lower Ninth Ward, the establishment of a statewide business grant program, and the activities of social entrepreneurs who are engaged in rebuilding and restoring communities. He has worked closely with Louisiana Lieutenant Governor Mitch Landrieu, who created the state's Office of Social Entrepreneurship in fall 2006. In June, Robinson presented a paper, "Entrepreneurial Approaches for Non-Profit Organizations," at the Lieutenant Governor's Social Entrepreneurship Workshop in New Orleans.
In earlier research projects, Robinson has focused on social venturing and community economic development. His "Early Stage Social Entrepreneurship Research Project," a path-breaking qualitative research of 80 social entrepreneurs, was one of five to receive a grant from NYU Stern's Stewart Satter Social Entrepreneurship Fund in the 2004-2005 academic year. Robinson is also co-principal investigator for a project entitled "African-American Women Entrepreneurship (AAWE) Research Project," which is funded by the Ewing Marion Kauffman Foundation and studies the patterns of entrepreneurship of African-American women who lead ventures with revenues of $1 million or more.
Robinson's course, Foundations of Entrepreneurship – Social Entrepreneurship Section, offers a framework for understanding the entrepreneurial process and exposes Stern MBA students and students in NYU's Wagner School to issues faced by entrepreneurs who start new social ventures. He recently completed his second co-edited conference volume on social entrepreneurship, International Perspectives on Social Entrepreneurship, which will be published in 2008, and is a direct result of the 2nd International Social Entrepreneurship Research Conference that he hosted at NYU Stern in April 2006.
Stern Welcomes New Faculty for 2007-2008
Six new faculty are joining NYU Stern this fall. "We are excited to welcome these faculty members to the Stern community," said Lee Sproull, vice dean of faculty.
Michael Katz has joined the management department as the Harvey Golub Professor of Business Leadership and a professor of management from the University of California at Berkeley Haas School, where he spent two decades and held the Sarin Chair in Strategy and Leadership. His research interests center around antitrust and regulatory policy as well as networks and network effects – areas in which he has also had practical experience. Katz held the post of deputy assistant attorney general for economic analysis in the US Department of Justice Antitrust Division under President George W. Bush and was chief economist of the Federal Communications Commission in the Clinton administration. At Stern, he will teach courses in competitive and corporate strategy.
The finance department welcomed two new professors: Xavier Gabaix, associate professor, and Yuliy Sannikov, assistant professor and Charles Schaefer Family Fellow. Having earned his PhD in economics from Harvard University, Gabaix came to Stern from MIT, where he was an associate professor of economics. His research interests include asset pricing, executive pay, and the causes of seemingly irrational behavior. Gabaix is also a fellow of the National Bureau of Economic Research. Sannikov, who has a PhD in business administration from Stanford University, participated in the Review of Economic Studies tour as one of the top six PhD graduates in the US in 2004, and was an invited panel speaker for his work on repeated games at the Econometric Society summer meetings in 2006. His research focuses on the theory of dynamic incentives and its applications to corporate finance, macroeconomics, and industrial organizations.
Vishal Singh has joined the marketing department as associate professor and will teach marketing research to undergraduate and MBA students. Prior to joining Stern, Singh was assistant professor of marketing at Carnegie Mellon's Tepper School of Business, where he won the Bachelor of Science in Business Administration Teaching Award for outstanding teaching. He was also awarded the Carnegie Bosch Chair (2006), Faculty Giving Chair (2005), and the Xerox Junior Chair (2003) there. Singh's research focuses on retail competition, competitive pricing, store brands, database marketing, and empirical industrial organization. He earned his PhD in marketing from Northwestern University's Kellogg School of Management.
Mary Brooke Billings comes to Stern from PricewaterhouseCoopers. As an assistant professor of accounting, her research interests include securities litigation and insider trading, the degree and nature of investors' sophistication, and voluntary disclosure and information asymmetries. Her current work considers the conflicting disclosure and trading incentives faced by managers who become aware of negative earnings news.
Joshua Reed, who is joining the information, operations, and management sciences department as an assistant professor, primarily studies the performance analysis and optimal control of stochastic networks arising in manufacturing and service systems. In particular, he is interested in applications related to telephone call centers. Reed earned his PhD in operations research from the Georgia Institute of Technology.
In addition to these tenured and tenure-track professors, seven clinical professors have joined Stern. They are Anthony Marciano (finance); Sonia Marciano (management); Gerald Rosenfeld (business and law); Anne Laure Sellier (marketing); Susan Stehlik and Jeffrey Younger (management communications); and Tunka Varadarajan (business).
Stern Creates New Business Ethics Symposium
In June, NYU Stern announced the establishment of the Daniel P. Paduano Faculty Symposium on Business Ethics. The Symposium will build and sustain a vibrant community of faculty across disciplines who conduct research in business ethics and related fields. It is made possible through the generous support of Daniel P. Paduano (MBA '69).
"Our aim with this Symposium is to create a vibrant, self-sustaining community of scholars who are dedicated to unearthing substantive issues in business ethics and to advancing a research-based interdisciplinary understanding of these problems," said Dean Thomas Cooley.
Beginning in Fall 2007, the Paduano Fellows will participate in monthly seminars taught primarily by leading scholars in the field of business ethics. Paduano Fellows will be charged with integrating business ethics into their own teaching. Faculty from NYU departments, including economics, philosophy, psychology, neural science, sociology, and law; faculty visitors from other universities; and prominent practitioners will be invited to partake in these symposia and help strengthen the business ethics research community in New York City.
"I believe that as the complexity of business increases in the variety of transactions and across cultures, today's business professional will need an ethical framework that integrates law, moral philosophy, economics, cultural studies, and other faculties," said Daniel P. Paduano of his decision to support the creation of this Symposium.
More than 35 years ago, NYU Stern introduced a required course in professional responsibility for MBA students. Additionally, approximately 60 percent of Stern's full-time MBA-level courses integrate aspects of corporate social responsibility into their syllabi. In 2003, NYU Stern established its Citi Leadership and Ethics Program to enhance research, case development, and knowledge dissemination in the field of business ethics.
researchroundup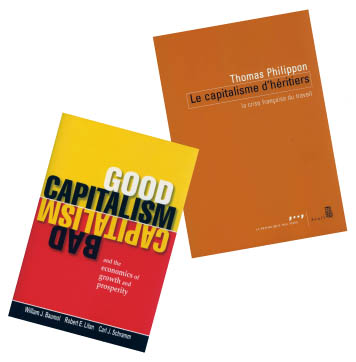 William Baumol, Harold Price Professor of Entrepreneurship, academic director of the Berkley Center for Entrepreneurial Studies, and professor of economics, co-authored a new book, Good Capitalism, Bad Capitalism, and the Economics of Growth and Prosperity. Baumol and co-authors Robert Litan, vice president for research and policy at the Kauffman Foundation, and Carl Schramm, president and CEO of the Kauffman Foundation, assess the differential performance of economies over time and argue that entrepreneurial capitalism has been the most effective system.
Thomas Philippon, assistant professor of finance and Charles Shaefer Family Fellow, recently published a book, in French, Le capitalisme d'heritiers: la crise francaise du travail (The Capitalism of Inheritors: the French Work Crisis), in which he attributes France's unemployment woes and lagging economy to the poor labor relations and low trust between managers and workers that prevail in France. This low trust is a consequence of several factors: conservative management, schooled in the grands écoles system, who tend not to promote dynamic individuals from within the organization; ideologically driven labor unions; and excessive state interventions.
Ingo Walter, Seymour Milstein Professor of Finance, Corporate Governance, and Ethics, authored a case study on Marsh & McLennan that won first prize in finance in the 2007 European Foundation for Management Development casewriting competition, which held its award ceremony in Brussels in June. The case study centers on Marsh & McLennan's exposure to reputational risk when, in 2004, its Putnam subsidiary allowed hedge funds to engage in late trading and market timing.
Nomura Professors of Finance Martin Gruber and Edwin Elton, along with Joseph Keating, distinguished professor of finance at Fordham University, co-authored an article, "Participant Reaction and the Performance of Funds Offered by 401(k) Plans," which appeared in the April 2007 issue of the Journal of Financial Intermediation. The article is the first study to examine how well 401(K) plan administrators select funds for their plans and how participants react to plan administrator decisions. They found that, on average, the funds selected by administrators outperform randomly selected funds of the same type but don't outperform index funds of the same type.
A paper co-authored by Justin Kruger, associate professor of marketing, Jeff Galak, a PhD candidate at NYU Stern, and Jeremy Burrus of Columbia University, will be published in a forthcoming issue of the Journal of Consumer Psychology. The article, entitled "When Consumers' Self-image Motives Fail," studies the way people pass judgment on their own decisions. They found that while consumers occasionally pat themselves on the back for making questionable purchase decisions, at other times they find fault in perfectly reasonable ones.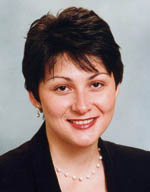 Anindya Ghose and Panagiotis (Panos) Ipeirotis, both assistant professors of information, operations, and management sciences (IOMS), were chosen for the Microsoft Virtual Earth Award to support their co-authored research. They recently received $35,000 as well as a unique, geographical location-based dataset from Microsoft. Their research, "Local Search for Hotels and Restaurants Using Econometrics, Spatial Data, and Image Classification," seeks to identify the economic value of different location characteristics for hotels and restaurants given the associated local infrastructure. This project builds on their continuing research on economining.
NYU Stern Associate Professor of Information Systems Natalia Levina received the IBM Shared University Research (SUR) Award this spring for her research on vendor strategy, management, and performance in global outsourcing. The award will provide $40,000 to support a year of Levina's research on global sourcing in the IT services sector. She will study issues pertaining to pricing software and IT services, vendor strategies and advantages in delivering diverse types of IT services, and the role of managers' background and actions in enabling effective collaboration.
In July, Nobel prize-winning economist Robert Engle, Michael Armellino Professor of Finance, presented the fifth installment of the Financial Times Business School series of online executive education courses. His five lectures focused on topics such as global financial volatility, how the ARCH and GARCH models Engle developed can be used to measure risk, and the implications for investors of a divergence between short and long-run risk. The lectures can be viewed at www.ft.com/businesseducation/stern.
In March, Stephen J. Brown, David S. Loeb Professor of Finance, along with representatives from Goldman Sachs, the nation's largest hedge funds and university endowment funds, testified before a House Committee on Financial Services hearing on hedge funds' likelihood of systemic risk to the financial markets. "Some [hedge funds] view lack of transparency as part of their business model. I argue that it is this lack of information, this lack of transparency at an industry level that is of greatest concern," testified Brown, the only academic to testify before the hearing. "There is no need to know proprietary trading information. However, by being more forthcoming, the industry could allay public concern about systemic risk and operational risk."
This summer, Russell S. Winer, William H. Joyce Professor of Marketing, will begin a two-year appointment as executive director of the Marketing Science Institute (MSI), which brings together marketing executives from approximately 70 sponsoring corporations with leading marketing researchers from more than 100 universities. As executive director, Winer will be working with the sponsoring companies to set the research agenda for the next two years on marketing topics of importance to these businesses. "My goal is to develop MSI's global reach by stimulating research in the two largest academic markets outside of the US and Europe: China and India," said Winer. "I hope to greatly increase the number of funded research proposals and conferences in both countries as well as to continue MSI's outstanding record of thought leadership on topics of interest to business."