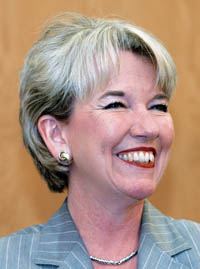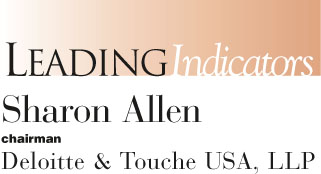 Sharon Allen is chairman of Deloitte & Touche USA, LLP, the US member of the global accounting and consulting firm, Deloitte Touche Tohmatsu. The first woman hired as an auditor in the firm's Boise, Idaho, practice, Allen in 2003 became the first woman elected as chairman and the highest-ranking woman in the organization's history. As chairman, she is responsible for the governance of Deloitte & Touche USA, which has 40,000 employees and annual revenues of more than $10 billion. Allen earned her bachelor's degree in accounting and received an honorary doctorate in administrative science from the University of Idaho. She is a member of the boards of the Los Angeles area Chamber of Commerce, the United Way of Greater Los Angeles, and the National YMCA.
Sharon Allen was interviewed by Paul Maidment, editor of Forbes.com and executive editor of Forbes.
Paul Maidment: What were the lessons of your upbringing that you've carried with you throughout your working life?
Sharon Allen: I was the youngest of four girls, on a farm in Kimberly, Idaho, which had a population of about 1,500 people. I learned my core values, and I learned to honor the commitment that my parents taught me – that you can do anything you want to, but just do it really well.
PM: How do you think that the role of women, both in corporate America, but also in leadership, has changed during your career?
SA: Thankfully, it's changed a lot. When I joined our organization 34 years ago, only 5 percent of those graduating with accounting degrees were women, and very few were in business school. Today, women are 50 percent of the students in business schools like Stern and 57 percent of accounting programs. We're also seeing more women moving up through the organization. Unfortunately, we're not quite there yet in the top executive suites around the country, but we're increasing every day.
"Diversity of thought, diversity of background, and experiential diversity are incredibly important to having the right kind of dynamic discussion within corporations. I also believe that the same extended benefit of diverse views is obtained when you have diversity in the workforce."
PM: Why do you think the rate of progress hasn't been swifter?
SA: Organizations have been too slow in many cases to understand the environment that needs to be created in order to help women progress appropriately in a career. About 14 years ago, we started the Initiative for the Advancement and Retention of Women, which has helped reduce the turnover gap between men and women. We're still not at the percentage we'd like to be at the partner level. Last year, 35 percent of those promoted to partner and director were women, which was certainly a lot better than 10 percent – the proportion 14 years ago.
PM: What are some of the initiatives you put in place to try and advance the cause of women within the company?
SA: We found that there was a lack of mentors and role models. We learned that we tended to not assign our women to the best and most prestigious engagements because they were expected to leave. And then women left, because they didn't get the best engagements. While we don't guarantee a woman will be assigned to a particular engagement, we assure that there's an equal footing in terms of being evaluated and assessed for engagements. It's made a huge difference in how women have progressed through the organization.
PM: It's obviously a very global, complex, and more connected world now. What advice would you give the people sitting in this room about how they should prepare themselves to enter that workplace?
SA: If students here have opportunities for global internships, chances to study overseas, they should jump on them. Whatever you can do to figure out how to work cross-functionally, and whatever you can do to become effective in working with teams, and leading teams, is going to serve you very well.
PM: Does leadership become very different in this globally connected world?
SA: Yes. You need the ability to work virtually, to accept working differently, in a little different style, and must be able to interact with people across language and cultural barriers.
PM: How do you keep your mind open to technological, social, and cultural developments so that you're able to provide flexibility?
SA: I have found that people have learned how to deal with the next generation when their children start growing up and go to business school. Our initial foray into the Women's Initiative came, in large part, because our then-chairman and CEO had daughters who were graduating from business school, and he was recognizing the challenges they were dealing with.
PM: There's a lot of talk in the industry about the need to reconcile US and international accounting standards, as well as the impact of new regulations like Sarbanes-Oxley. What's your take?
SA: I think there is clearly a concern about the competitiveness of the US, some of which is based on the complexity of our accounting and reporting standards. But there are other reasons as well, not the least of which is that the other markets are getting very aggressive about marketing their opportunities and encouraging people to list on their exchanges. I think we're just starting to see the results of Sarbanes-Oxley now, and, in many cases, it has been quite positive. The early adopters have actually had a reduction in the number of restatements, whereas those who have not "early adopted" have had something like a 40 percent increase in restatements.

PM: Do you think that integrity and ethics have improved in boardrooms as a result of Sarbanes-Oxley or in spite of Sarbanes-Oxley?
SA: I think it would be easy to say that it's better because of Sarbanes-Oxley. Many of those changes might have come anyway, because of the environment in which we all found ourselves a few years ago. But I think the active oversight that's taking place within the boardroom is probably at a higher level than I've ever seen it within my 30-plus years.
PM: You've talked a lot in our conversation about this changing and culturally diverse world. How important is it for your firm, and how much do you push your clients toward having diverse workforces?
SA: I'm a strong proponent of diversity in the boardroom, in executive suites, and in the workforce in general. I talk about it consistently in every venue. Diversity of thought, diversity of background, and experiential diversity are incredibly important to having the right kind of dynamic discussion within corporations. I also believe that the same extended benefit of diverse views is obtained when you have diversity in the workforce. It's the right thing to do. But there's also a business case. Today, half of those graduating from business schools are women, and about 30 to 40 percent of our new hires are from diverse backgrounds and under-represented populations. We really have to understand how to create the opportunity for diverse populations to excel within our organization.
PM: Is there something that you now know that, when you started out in your career, you wish someone had told you?
SA: One of the lessons I learned is that you have to watch out for your own career. About four years into my career, I was expecting to get an early promotion. When I didn't get it, I stomped into my partner's office and told him all the things that I'd done that I thought should have earned me this promotion. He just sat and looked at me and he said, "I didn't know you'd done all those things!" So, the lesson is that you don't have to be a braggart, but you can make sure people know what you've done to further your career. If you just assume everybody knows, you're probably going to be wrong.
Audience Questions
Q: I'm an Executive MBA student and have just accepted an offer from Deloitte. With all the changes with technology becoming a big driver these days, and the emergence of India and China, how is the consulting world changing?
SA: It has indeed changed. Some people worry about how offshoring is going to affect their careers now that so much is being done in India. Our operations in India allow us to stay in the game in places that we wouldn't otherwise be able to, like tax preparation. One of the cautions that I have about consulting is you can't get too dependent upon the technology to provide your connection across the organization. We're a people business.
Q: I'm on my third career, and my question is about experiential diversity. How do firms like Deloitte plan to access some of the people who have managed people for 25 years?
SA: The first step we're taking is focusing on it as it relates to our own alumni. We have a mandatory partner retirement age at 62. And we have a lot of people who have actually left before that, who frankly may have an interest in coming back. As we consider our shortages, in many cases, we really have to look at ways to be creative about getting people into the workforce. I think something like 40 percent of our hires today are experienced hires.

Q: What are some of the efforts Deloitte has in place to promote the diversity of its new hires?
SA: We have to assure that when we do hire people from diverse backgrounds, that we're moving them through the organization at the appropriate pace. We're short on role models. And so we have programs within the organization that are focused on developmental opportunities for women and for people from under-represented populations. These programs allow us to accelerate their careers to assure that we're giving them specific guidance and opportunities to grow and to learn within the organization.

Q: How do you maintain the work and life balance?
SA: I will admit, I'm not the perfect role model for work and life balance. Having said that, I do have some absolute commitments that I make to keep a balance in my life and my family, which includes my husband and my dogs. You absolutely have to figure out those things that make a difference to you personally and then make sure you pay attention to them. My home is in Pasadena and my office is here. And I'm neither place very often, to be honest. But in the process of that, I really do work at being home every Friday in time for date night with my husband.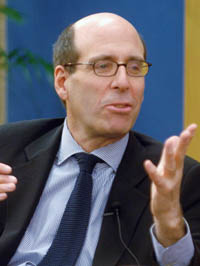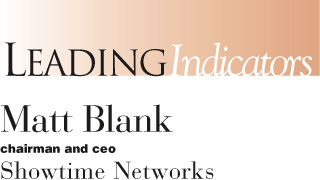 Matt Blank is the chairman and CEO of Showtime Networks, which owns the premium television network, Showtime, known for edgy programming including "Weeds" and "The L Word," as well as The Movie Channel and other properties. At Showtime, which he joined in 1988, Blank held several senior management positions, including chief operating officer, before being named chairman and CEO in 1995. Prior to joining Showtime, he worked for many years at HBO. Blank is active in several industry associations, including the National Cable Television Association. He earned his undergraduate degree from the Wharton School of Business and his MBA from Baruch College.
Blank was interviewed by Tom Lowry, a senior writer for BusinessWeek, who covers media and entertainment.
Tom Lowry: Each week, fast-evolving technology seems to bring new challenges or opportunities that produce anxiety. How do you not get left behind in this new realm and, at the same time, not make some colossally stupid, knee-jerk decision?
Matt Blank: We're somewhat fortunate. We've always been a subscription revenue business that didn't rely on advertising. So now the rest of the world is trying to figure out how to sell their product on iTunes, or through Microsoft's Vista Platform. And we don't have ad revenues to be cannibalized by other technologies, or by somebody fast-forwarding through a commercial. Last year we put "Weeds" and "Sleeper Cell" up on the iTunes platform, which gave us access to a customer base beyond the 14 million plus households that subscribe to Showtime. And if somebody decides to buy the whole season of "Weeds" on iTunes, maybe, at some point, they'll think they should get Showtime. Every time somebody downloads an episode or a season, it's helping the brand.
"I think now the workplace is looking for people with diverse experiences, and diverse experience suggests that someone will adapt well to change."
TL: More broadly, who fares the best in this new environment – distributors or content players?
MB: If you look at the history of the media business, there have always been the haves and the have-nots. People who held broadcast licenses and the networks that then served them, were the haves. If you were Showtime and you were distributed in every cable system in America, you were a have. If you were some small network trying to get distribution in this environment, you were a have-not. But in a world where there are no broadcast licenses, and there's no price of entry, it's much easier to get access to homes. The network television model may be going through a bunch of changes, but I think it is still very, very important. I wouldn't bet against cable operators. Consumers are still primarily driven by inertia, although that's changing for the younger demographics.
TL: There's been pressure for years on collapsing the time-honored distribution system for movies' so-called windows. Why shouldn't there be day and date release on movies so consumers can see them how and when they want?
MB: We've lived in a world of sequential distribution. A film comes out in the theaters, and six months later it goes to video and pay-per-view, and roughly six months after that, it comes to a protected premium TV window. That premium TV window lasts for 18 months. It's probably been outdated for quite a while. By the time a movie comes to Showtime today, a lot of people have seen it on DVD or pay-per-view. At some point we're going to see a major shift in the DVD window because technology has brought huge perishability. Last week, Wal-Mart announced that it is going into the video download business with the studios. Marketing DVDs has become so competitive and the marketing costs are huge. So to the extent that you can shrink that window between when you spend all the money to open the movie in theaters and when you release it on DVD, it's more efficient.

TL: How does a premium cable channel avoid becoming obsolete in that environment?
MB: We don't view ourselves as driven by the movies. We're driven by shows like "Dexter," "Brotherhood," "Weeds," "Sleeper Cell," "The L Word," and "The Tudors," and by new comedies this summer. And ironically, if we're not dependent on feature films, which require a commercial-free environment, I might suggest that there could be ad revenue behind some of this proprietary programming in the future.
TL: With the Internet, iPods, and other devices, will the cable companies get disintermediated?
MB: I don't think so. Time Warner Cable, which serves New York, has a product called Triple Play, where they offer cost-efficient phone service, Internet access, and video. I wouldn't mind being Time Warner Cable. One thing nobody wants to talk about, however, is wireless technology. Everybody, including me, would love their iPod to be wireless, to not have to crank into the laptop every time you wanted to download content or do anything else. Who'd be the best one to provide that? The cable industry has a marketing relationship with 70 million households. And video is a smaller and smaller part of their business each year.
TL: About 14 million homes subscribe to Showtime. That's about half of what HBO has. What's the strategy in terms of winning share?
MB: A lot of that is institutionalized. When I started out at HBO, right after HBO went on the satellite in 1976, we tried very hard to keep Showtime out of the home. So HBO has always had that first-in-the-home status. Viacom and Showtime had to sue Time Inc., and HBO in 1990 to gain access to the most important media market in the world, New York. (Time Inc., HBO's owner, owned the cable system here and refused to carry Showtime.) But today, the greater challenge for us is not HBO; it's what everything costs in that household. Say you're a subscriber of Time Warner Manhattan, and you're taking all these channels, and it's $70 a month. Then they offer you high-speed Internet access for $54.95. So now the bill is $124.95. When you look at the bill, there are only one or two things that are on that bill that are discretionary, and that's HBO and Showtime.
TL: How much has selling your programming on iTunes helped in terms of subscriptions?
MB: We have no real sense of that. We do think it's helped us in the case of a couple of those programs. My daughter is a senior in college, and when "Weeds" and "Sleeper Cell" went up on iTunes, she said, "Dad, I'm hearing from everybody – they're talking about 'Weeds' and 'Sleeper Cell.'" At the end of the day, I don't think we can measure any one of those things, but cumulatively we're doing very well.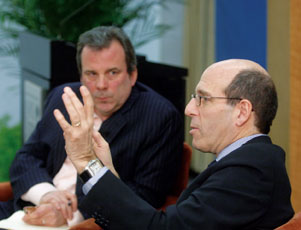 TL: Let's talk a little bit about your management team, and how you've come to greenlight some of these programs.
MB: Let's take "The Tudors" – a ten-part drama that's about King Henry VIII. Bob Greenblatt, our president of programming, has been with us for about three and a half years. Before joining us, Bob had had his own production company and produced "Six Feet Under" for HBO. In the summer of 2005, he asked me to read a script about young Henry VIII. And I couldn't put it down, it just read like a total soap opera. We weren't going to cast the 40-year-old, chubby, short, bald Henry VIII. The idea was that we'd get a 22-year-old Henry. Bob said we'd only do this if we can cast the right person – Jonathan Rhys Meyers, who played opposite Scarlett Johansson in "Match Point." Basically, the series is about the women and him and his distaste for his cousin, the King of France. We had a partner attached in this case, Peace Arch Entertainment, because this was so expensive.
TL: How do you market a show like this?
MB: Therein lies one of the real holes in our sort of business model. We're in 14 million plus homes. CBS is in 108 million homes. I go a little crazy when I sit there and watch the Grammy's, and those little bullets keep flying across the screen for "How I Met Your Mother," and I'm thinking, "Boy, wouldn't that be great for 'The Tudors?'"
TL: Are you consuming any media on your cell phone?
MB: I'm a news freak. I get four or five newspapers at home in the morning. I actually will use my Blackberry probably half a dozen times a day to check Yahoo News and Yahoo Headlines. A couple of times I've been in the car at night going home and I click on "CBS Evening News" or "NBC Evening News" and I see this little six-minute kind of buffered Brian Williams or Katie Couric coming down and giving the headlines. So far, I don't find that to be a really satisfying experience.

TL: What advice would you give to somebody who's just starting off in the business these days?
MB: The world is not linear anymore. I would not set out in the media business thinking about career paths, per se. I do think you have to be very, very flexible. I used to be very impressed if someone came in and they had gone to Yale or had a Harvard MBA. I now think the workplace is looking for people with diverse experiences, and diverse experience suggests that someone will adapt well to change.
TL: Do you think the executive class of the media business is more or less bifurcated between the technology guys and the content guys?
MB: We had a famous executive who worked at Showtime and refused to use e-mail; he finally lost his job at Showtime. I think it's just harder to hide. It's also harder to trust your gut because the business isn't that linear. You need to really get information from a lot of different sources. I've always been a big believer that a lot of this stuff was going to be happening, but I'm just amazed at some of the things you see happening out there. Eighteen months ago, I said, "No one's going to watch shows on their iPod." And I'll tell you, I have no problem sitting on an airplane and watching a show on my iPod.


Audience Questions
Q: It would seem like there are going to be a lot of baby boomers retiring and, therefore, having more leisure time and growing in importance to your industry. Do you have any plans for them?
MB: I like to say that 60 is the new 50, because I'm not too far from 60. It used to be in the television business that the 50-pluses were the dead zone. I don't think that's the case anymore. There are fewer barriers to entry, so if somebody wants to be out there making more programming for aging baby boomers, there are going to be a lot more opportunities to get that programming in front of people.
Q: What are some of the skills and qualities of the top executives that work for you, and how important is mentoring to you?
MB: We have a really great group of senior people at Showtime, about a half a dozen people. Virtually all of them have been around for a decade or more at Showtime, and came up through the ranks, or grew into their positions. I think our focus is on having people who can really perform, perform under pressure, and really believe in the product. Mentoring can be difficult, particularly in the media today, where the businesses are rather mature. When I was at HBO in the early 1980s, if you weren't getting promoted every 18 months, it was like, "What's wrong with you? You should go somewhere else."