Students Gain Hands-on Experience while Lending a Hand
"I've benefited immensely from attending college in New York City, and it's only fair that I use the skills I acquired and honed at NYU Stern to give back to the community that has given me so much," said recent Stern graduate Victoria Sung (BS '07). Her most rewarding experience: participating in the partnership between the Stern Undergraduate College and the Urban Assembly School of Business for Young Women (UASBYW), an all-girls New York City public high school that prepares students for college and the business world.
The Stern-UASBYW partnership originated last fall with Gwyn Welles, partnership coordinator at UASBYW, and Jennifer Baron, director of student life at the Stern Undergraduate College, who envisioned an ongoing partnership between UASBYW and the Stern Scholars, a student group focused on intellectual exploration and community outreach. Baron and Welles worked with Sung, community service chair of her Scholars class, to coordinate a host of events to foster interaction between the Scholars and UASBYW students.
"Our Shadow a Student Day on campus made the biggest impact on the UASBYW students," said Sung. "Students first had the opportunity to talk individually with a Scholar about college life. Then, they attended a business class to actually experience a college classroom." Sung also coordinated a tutoring program and professional skills workshops on interviewing and résumé writing for the UASBYW students.
Throughout the partnership, Sung employed a variety of skills she had developed at Stern. "I regularly drew upon my project management skills to plan our events and track progress against our goals," she said. She also learned the value of real-world application of classroom skills. "Using my managerial skills to coordinate our partnership is much different than practicing them in class because the results aren't just reflected in a grade," said Sung. "You encounter real responses, good or bad, and you finally see the big picture."
Sung said the relationships she developed with UASBYW students were highly rewarding. "I remember riding the bus back with the students after an event, and they were asking me questions about my experiences at NYU, and then asked for my e-mail address so we could stay in touch. That's when you know you've made an impact."
Welles underscored the impact that the Scholars made on the UASBYW students. "Thanks to this partnership, our students received valuable advice and now realize they're leagues ahead of the average high school student," she said.
Because of this success, Baron said she hopes Stern can continue to work with UASBYW. "It's our responsibility as educators to engage our community and to teach the students to engage the community," she asserted. "There is a lot to mutually gain when you have an involved, ongoing partnership where relationships are cultivated over time. Everybody wins."
Stern Senior Serves Community
When Stern senior Anjum Unwala (BS '08) thinks about her plans for the future, her mind quickly wanders to the poverty she witnessed in Pakistan during her visits to see extended family over the years. "It's life changing," she said. "The disparity between the rich and the poor is astounding. And you feel helpless because there's no solid infrastructure from which to improve these people's lives."
Like Unwala, today's college-age generation, commonly referred to as the Millennial Generation, is known for its commitment to community service. And each year, Stern students are showing increasing engagement with communities near and far, seeking ways to make a positive impact on society. To support their passion for service, Dean Sally Blount-Lyon introduced a series of Social Impact Initiatives that transcend both the in-class and out-of-class experiences.
One of these initiatives is the Social Impact Stipend, which supports students doing volunteer work during school breaks. Thus far, the funds have enabled students to hold unpaid internships at non-profit organizations or to travel domestically and abroad to do service work or research.
This past summer, Unwala was a recipient of a Social Impact Stipend and used it to support herself while interning at the Urban Justice Center in New York City. While there, she worked on the Homelessness Outreach and Prevention Project and focused on supporting advocacy work for welfare reform and on studying trends in immigrant women and poverty. "The work was extremely interesting and really gave me new perspective on the role of government and the influence of public policy," she said.
In addition to majoring in finance and international business at Stern, Unwala is also studying politics at NYU and hopes to work in international development. "I want to live and work abroad and hope to leverage my studies as well as my experiences at the Urban Justice Center, at Habitat for Humanity, and in other service projects to make an impact," she said. Unwala plans to apply to the PeaceCorps and aspires to work for the US Agency for International Development (USAID), a government agency providing economic and humanitarian assistance around the world. She hopes that through her future work, she can make an impact in developing nations like Pakistan.
Luxury Club Deepens Industry Ties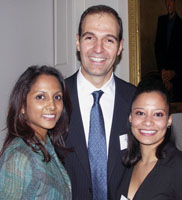 Sandra Singh (MBA '07), a brand manager on the Calvin Klein business at Coty, has always had a passion for luxury goods marketing. She started her career in PR and eventually launched her own designer swimwear line. At Stern, she became immediately involved in the Stern Luxury & Retail Club, and served as co-president last year. "Our goal was to make Stern a go-to brand for recruiters at retailers and luxury goods/services companies," explained Singh. The club held its first alumni mixer with NYU alumnus Vincent Ottomanelli, president of Salvatore Ferragamo USA, who also sits on the club's advisory board. Building on the success of that event, which drew alumni back to Stern and raised recruiters' interest in club members, the club pursued other initiatives with top retailers such as Tiffany and Grand Marnier. "In an industry as competitive as luxury and retail, it is important that we leverage New York City and tap Stern's extensive network to compete in the market," Singh said.
This past year, the Luxury & Retail Club launched the Luxury & Retail Consulting Corps to provide members an opportunity to consult with executives from premier luxury goods companies. The first client was Salvatore Ferragamo USA. The group met with Ottomanelli's executives to identify issues and create strategic projects to address them. "We identified three consulting projects, interviewed more than 50 candidates, and, in the end, selected six members for each project," said Singh. This experience gave the club's members exposure to the industry, a unique experience to talk about in interviews, and insights and strategies that they can build on in their careers.
Consulting Corps participant Josh Feuer's (MBA '08) team was tasked with providing a complete assessment of the men's and women's luxury shoe market. The team gathered data on industry trends and the competitive landscape, worked with senior executives who provided guidance and focused their research, and then gave final presentations to Ottomanelli and his executive team. The two other teams were responsible for surveying the Canadian luxury and retail markets for marketing and branding opportunities and for evaluating the role that physical store design and fixtures play in defining the presence of a store and the brand.
"My involvement in the Consulting Corps put me at a tremendous advantage while interviewing," Feuer said. "Retail has its own language, and with my experiences on the project and with Ferragamo, I was able to demonstrate my passion for the industry and all the knowledge I gained." His experience in the club, coupled with what he learned in the classroom, landed Feuer a coveted internship at Target Corporation. "I was working in the Business Analysis group in Minneapolis, which was amazing. I was in a class of more than 30 MBA students from top schools around the country," he said. "I definitely used the experience I had in the Corps everyday at Target. The Corps is a great way for students to build networks in the retail industry both with established executives as well as with similarly minded classmates."
MBA Students Debut in Cannes
MBA students in Stern's Entertainment, Media, and Technology (EMT) program are getting up front and personal with leading lights and stars in cinema. Designed to provide students with a framework for understanding the dynamics of the film industry by studying the complete process of creating, executing, and distributing a film, the Craft and Commerce of Cinema course culminates in a trip to France for the Cannes Film Festival.
Felicia Bono's (MBA '08) interest in the film business industry led her to take the course last semester. "Stern has one of the best EMT programs of any top business school in the country and this course is one that I could only take here," said Bono.
Prior to the trip, the class learns about independent film companies, foreign directors, and new technology initiatives. In Cannes, the class meets and hears from leading professionals in the business. "Producers, entertainment attorneys, and acquisition executives provided greater insight into the industry," Bono explained. "And because we had studied technology's role in the business, I was able to think through how the films screened at Cannes may be affected – for instance, the impact of TiVo and DVR. It was an amazing experience to be in the middle of such a world-renowned film festival – the energy was palpable."
Al Lieberman, clinical professor of marketing and executive director of the Entertainment, Media, and Technology program at Stern, teaches the class. "The exposure that students receive in Cannes is like nothing that can be replicated in a classroom," he said. "Interacting face-to-face with the publisher and editor-in-chief of Variety, the co-president of SONY Picture Classics, or the executive vice president of film acquisitions at Miramax, and others, some of who are Stern alumni, is an extraordinary experience," Lieberman continued. When Ocean's 13 premiered at the Palais theater in Cannes, "the students were right up front with George Clooney and Brad Pitt."
Bono was able to apply her class experience during her summer internship at Google. "The class gave me a unique opportunity to experience the creativity of the film industry both from a business and an artistic perspective, which is useful at Google where creativity is respected in itself and as a part of the overall business goals," she said. "Being at the Cannes Film Festival showed me first-hand the benefits of creating 'buzz,' which is also useful at Google." Concluded Bono, "This class is by far the most rewarding thing I have done during my time at Stern."