Haskins Dinner Honors GE CEO Jeff Immelt and Celebrates Donors
Left: Jeff Immelt was honored with the 2007 Haskins Award for his achievement in business and public service. Above, left: Immelt and Dean Thomas Cooley. Above, right: Overseer William Berkley spoke about the importance of education.
Nearly 300 NYU Stern alumni and friends joined together at the 27th annual Haskins Award Dinner in June to honor Jeffrey Immelt, chairman and CEO of General Electric, and to celebrate the tremendous progress of the Campaign for NYU Stern. Thanks in large part to the Haskins Partners, the School's most generous group of alumni and friends, the campaign has raised $156 million in gifts and commitments.
NYU Stern Dean Thomas F. Cooley presented Immelt with the Charles Waldo Haskins Award, established in 1980 to recognize outstanding individuals, whose careers, like Stern's founding dean, Charles Waldo Haskins, have been characterized by the highest level of achievement in business and public service. Dean Cooley spoke of his conviction that business is the most powerful engine of social transformation. "The unleashing of economic activity has been, and continues to be, the source of improved well-being across the planet, and it is linked to all measures of human progress – to education, to the rights of women, to the rule of law," he said. Dean Cooley credited Immelt with masterminding GE's Ecomagination campaign, which "is pushing corporations all over the world to think seriously about sustainability as a hugely profitable undertaking – profitable, that is, in the financial sense and in the broader sense of social good."
In his acceptance speech, Immelt said two factors make corporations good citizens: (1) the power of technological innovation to solve social problems, such as reducing greenhouse gases, improving water scarcity, preventing sicknesses, and slowing the onset of diseases; and (2) giving people the confidence to compete, which is done by training workers and investing effectively. Immelt wants GE to be known as a company that plays by the rules, gives back, competes, and whose people have self-confidence and can teach others to have it. Speaking of the need to balance corporate citizenship with shareholder value, he joked, "If at the end of your shareholder meeting, nuns are arguing with people from the Cato Institute, you know you've done something right."
William R. Berkley (BS '66), vice chairman of the New York University Board of Trustees, chairman of the NYU Board of Overseers, and the recipient of the 2006 Haskins Award, stressed the need to continue educating students for an uncertain, fast-changing world. "Stern is about thinking and outcome," he said.
Two NYU Stern students, Ripa Ajmera (BS '08) and Jorge Fontanez (MBA '07), shared their experiences as students at Stern. Ajmera said she was attracted to NYU Stern by the Satter Program in Social Entrepreneurship at the Berkley Center for Entrepreneurial Studies, and came to the School with the intention of learning business skills to better serve non-profit organizations. Her courses and the Social Impact Stipend from the Stern Undergraduate College have helped prepare her to fulfill her goal of helping women and children facing deep social problems. Fontanez described how his MBA degree was the perfect tool for him to become an agent of change within the corporate world. As a brand manager for Colgate-Palmolive, he believes his Stern education will help him to market products that are better for our society and the environment.
Dean Cooley also announced the progress of the Campaign for NYU Stern and how continued donor support will enhance the Stern student educational experience. "Although we have achieved tremendous success, we're not stopping here," said Dean Cooley. "Plans are underway for the largest renovation of Tisch Hall since its construction in 1971. This renovation will give our students the learning environment that they deserve as they work toward becoming truly global citizens."
NYU Stern Recognizes Social Entrepreneur Alumnus Abraham George
Members of the NYU Stern community and prominent leaders in the social entrepreneurship field convened in April to celebrate Abraham George (MBA '73, PhD '75), the 2007 Stewart Satter Social Entrepreneur of the Year.
The award, made possible through the generous support of NYU Stern Overseer and alumnus Stewart Satter (MBA '82), honors a Stern-affiliated social entrepreneur who has leveraged his business education to address the most intractable social problems. As founder of The George Foundation, a non-profit organization based in Bangalore, India, George has creatively and imaginatively applied the entrepreneurial skills gained from a successful career in software and financial services to raise scores of people out of poverty. (See "Return of the Native Son," Sternbusiness, Fall 2006) Among his greatest achievements is the creation of Shanti Bhavan, a residential school for children from economically and socially deprived backgrounds in rural India.
Sharing his perspective as a macroeconomist, Dean Thomas Cooley characterized business as an engine for social progress, and thanked Satter for his significant personal and financial investment in shaping the social entrepreneurship agenda at Stern. Dean Cooley reflected on his visit to Shanti Bhavan as the most inspirational part of his trip to India last year. Satter echoed this sentiment, calling George's work truly remarkable.
George said that this honor gives him the opportunity to tell the children back in India that people more than 10,000 miles away truly care about them. He, in turn, recognized Dean Cooley for having given a heart to the academic institution he leads through Stern's commitment to social entrepreneurship. George challenged the audience to think about how current and future business leaders can solve the problem of poverty. While government and non-governmental organizations can help, they won't be the ultimate solution to lifting out of poverty the 65 percent of India's population that lives on less than $2 a day. George concluded by noting that vibrant economic activity – the creation of jobs and opportunities to make money in an ethical way – is the only real path to achieving this social goal.
Experts Examine Derivatives Market
In May, NYU Stern's Salomon Center brought together leading thinkers in the field of derivatives to discuss derivatives theory advances and their practical applications. The conference was sponsored by the International Securities Exchange (ISE) and the NASDAQ Stock Market, Inc., whose Foundation currently supports derivatives research at Stern.
Stephen Figlewski, NYU Stern professor of finance and director of Stern's Nasdaq Derivatives Research Project, opened by describing Stern's long history of research contributions in derivatives.
One of the morning sessions, "New Instruments," featured Robert Engle, Michael Armellino Professor of Finance at NYU Stern, who described his current research on fitting ARCH-family models, for which he was awarded the 2003 Nobel Prize in Economics, to the behavior of stock option implied volatilities; Robert Shiller, of Yale University, who spoke on developing derivative markets to manage price risk on residential real estate; and Ehud Ronn, of the University of Texas, on the highly sophisticated types of derivatives that have now become common in energy markets.
The luncheon keynote address was given by Myron Scholes, a pioneer in modern derivatives theory and co-creator of the Black-Scholes options pricing model. Scholes argued that there are four ways to reap returns in the financial markets: by taking on systematic risk exposure; by predicting cash flows and discount rates more accurately than others to gain a better estimate of current security values; by providing liquidity to the market; or by facilitating the transfer of market risk from risk averse to more risk tolerant investors. He cautioned, however, that shocks in the global markets cause changes in the price of liquidity.
In the afternoon, panel discussions took stock of the current state and direction of derivatives theory and practice, and the role of technology in this marketplace. Emanuel Derman of Columbia University underscored that it is much harder to predict the future in finance than in physics, so the primary purpose of financial models such as Black-Scholes is to interpolate and extrapolate from market prices in the present. Scholes, in his current role running a hedge fund, stressed that since there is nothing in a textbook that tells managers how much risk to run, traders must understand their own threshold for loss.
The final session on "New Markets" addressed the challenges of creating the financial marketplace for the instruments that will be traded in the future. Frank Hatheway, NASDAQ's chief economist, emphasized NASDAQ's historical track record in providing high-capacity trading and operating efficiency, which will be extended to options with the opening of NASDAQ's own options market later this year, subject to regulatory approval. ISE President and CEO David Krell described the growth in the overall options market, which has jumped from 1.7 million trades a day in 1999 to 2.4 million today, and the shift from 80 percent retail traders in 1999 to 50 percent institutional investors in 2007.
Pollack Center Hosts Directors' Institute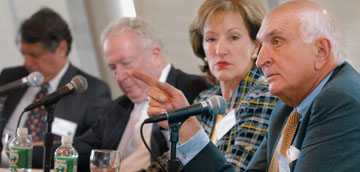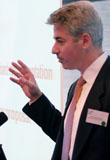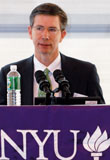 Top, from left to right: Panelists Michael Helfer, general counsel and corporate secretary, Citi; Martin Lipton; Marsha Johnson Evans, former president and CEO, American Red Cross; and Kenneth Langone. Bottom, from left to right: Keynote speakers William Ackman and Joseph F. Tracy.
In May, the NYU Pollack Center for Law & Business, a joint initiative between NYU Stern and NYU School of Law, hosted its fifth annual Directors' Institute, entitled, "Corporate Governance: The State of the Art." Created to help directors stay current on their legal, fiduciary, and ethical responsibilities, the Directors' Institute brought together new and experienced directors with experts and practitioners in the fields of law, business, and regulation.
"As an educational institution, we have a responsibility to debate and shape, in partnership with the business community, the thinking that will further inform corporate governance reforms and help restore investor confidence in the corporation," explained William T. Allen, director of the NYU Pollack Center for Law & Business and Nusbaum Professor of Law and Business.
In his morning keynote address, Joseph S. Tracy, executive vice president and director of research at the Federal Reserve Bank of New York, provided a generally optimistic outlook on the US economy, citing a low unemployment rate, stable consumption and disposable income, a moderate housing market, a softened manufacturing market, and stronger export growth. He described the investment scenario: "Firms' bottom lines are strong, but there is not a lot of capital investment and a lot of share repurchasing – which may be due to too much caution in the boardroom."
In the luncheon keynote address, William Ackman, managing member at Pershing Square Capital Management, spoke about governance from a hedge fund investor's perspective. He argued that hedge fund activism offers significant benefits to shareholders, enhances transparency, prevents value-destroying initiatives, improves capital allocation, and increases management and board accountability. Ackman discussed the tools of activism, which range from sending a private letter to management to a proxy battle seeking board representation. He detailed Pershing Square's activism with Wendy's, which helped boost the restaurant chain's share price from $38 to $60.
The conference featured panels that examined current issues in corporate governance, financial restatements, and the expectations and risks concerning director fiduciary duties. It included expert panelists from NYU Stern, NYU School of Law, the US Securities and Exchange Commission, and the Delaware Court of Chancery, as well as directors of Citi, Dow, Home Depot, and Lehman Brothers Holdings.
In the panel he chaired on current issues in corporate governance, Martin Lipton, senior partner at Wachtell, Lipton, Rosen & Katz and chairman of the NYU Board of Trustees, asked whether there should be legislation on executive compensation. Panelists agreed that there should not be legislation. Panelist Kenneth G. Langone (MBA '60), chairman and CEO of Invemed Associates L.L.C., co-founder of Home Depot, and vice chairman of the NYU Stern Board of Overseers and of the NYU Board of Trustees, said that boards should pay CEOs what the market requires to get the best person for the job: "If you have more skin in the game, you're more likely to do the right thing. Companies pay for performance."
Nobel Laureate, Economists Explore Japan's Future
In April, the Center for Japan-US Business and Economic Studies at NYU Stern hosted a panel discussion on the future of the Japanese economy. Participants included Nobel Laureate Edward Prescott, the returning NYU Stern Shinsei Bank Visiting Professor in Economics at the Japan-US Center and senior monetary advisor at the Minneapolis Federal Reserve Bank; Koichi Hamada, Tuntex Professor of Economics at Yale University; and Dr. James Harrigan, senior economist, International Research Department, New York Federal Reserve Bank.
Prescott presented research that he recently conducted with Fumio Hayashi, professor of economics at Tokyo University, about the past and present status of the Japanese economy, and then made predictions about the country's economic future. He discussed Japan's lost decade, which began in 1992 when productivity growth almost stopped because of bank loans granted to inefficient businesses. Since 2002, he argued, the banking system has been reformed and productivity growth has recovered. In fact, total factor productivity in Japan is now growing at 2 percent, which is the average growth rate of advanced industrial countries. Prescott then predicted that the financial sector will be the key to Japan's future. He remains pessimistic, however, because the new government is backing down on bank reforms and its privatization of the postal savings and life insurance systems, and because Japan's productivity is not growing as quickly as in other major economies.
Harrigan said Prescott's hypothesis is plausible, but suggested that further research be conducted because empirical support from micro-data is lacking. He also debunked an often-held assertion that deflation is over in Japan. While the Bank of Japan has tightened its policy, there remains a real risk that deflation can continue because Japan lacks buffers for negative economic shocks.
Finally, Hamada argued that Prescott should consider how purely nominal phenomena can influence the economy. For example, money supply and population growth rate can have real economic effects, he said.
CeDER Workshop Discusses Global Sourcing
At the Center for Digital Economy Research (CeDER) workshop on global sourcing, co-hosted with IBM in January, leading information systems scholars, doctoral students, and IBM researchers gathered to discuss a host of issues surrounding the globalization of service work, including outsourcing strategy, relationship management practices, and personnel issues.
The workshop featured roundtable discussions with experts from a number of universities, including NYU Stern, Massachusetts Institute of Technology, University of California at Irvine, and University of Texas at Austin, as well as a keynote address by Dianne Bellatoni-Sammon, director for global diversity at IBM.
Bellatoni-Sammon said that in the past 10 years, global sourcing has become an important component of many companies' business strategy, playing a key role in delivering shareholder value and helping companies remain competitive in the global marketplace. Global sourcing provides clients of companies such as IBM, Infosys, Tata, and Wipro – the leaders in global sourcing – significant cost savings as well as a truly global presence and anytime/anywhere availability. In addition, companies believe they are making a positive contribution to global social and economic development by creating jobs in emerging markets such as Argentina, Brazil, China, and India. IBM has been a player in global sourcing – referred to as global resourcing at IBM – for over a decade, and currently has a presence in 165 countries. Bellatoni-Sammon quoted IBM CEO Sam Palmisano, who said that the key to success in global sourcing is "the right work, in the right places, at the right cost."
In a roundtable discussion, workshop organizer and NYU Stern Professor Natalia Levina presented her research on the impact of organizational and national boundaries on offshore collaboration. She explained how today's firms are increasingly sourcing more complex, less codifiable, and more strategic information technology projects to low-cost, offshore locations. Because such projects require close collaboration among all participants, some critics argue that firms should set up captive offshore development centers to keep these projects within their organizations' boundaries. Levina presented a case study about a large financial services organization that used both captive centers and third-party vendors in multiple global locations. The case showed that achieving effective collaboration did not depend on whether the project was kept within the firm's boundaries or on choosing a specific offshore location. Instead, her research found that effective collaboration was facilitated by specific client-side program managers who engaged in boundary-spanning practices across country and firm borders.
Social Justice Advocate Urges Truth
On March 27, Dr. Alex Boraine, a longtime advocate for justice and reconciliation in South Africa, delivered the 2007 Ashok C. Sani Distinguished Scholar Lecture at NYU Stern.
Boraine, a Methodist minister, was deeply involved in the long campaign against apartheid and then served as deputy chair of the post-apartheid Truth and Reconciliation Commission. This year, he is the Sani Distinguished Scholar and Global Visiting Professor of Law at the NYU School of Law's Hauser Global Law Program. Both the professorship and the lecture are named in memory of Stern alumnus Ashok C. Sani (BS '74), a founding member of the NYU Stern Alumni Council and a former member of the Stern Board of Overseers. The lecture series reflects his dedication to ethics, truth, love, peace, non-violence, compassion, and the moral and social responsibilities of members of society.
Boraine's lecture, "Power through Truth and Justice," addressed power as an omnipresent force that "runs through all life almost like a laser beam and, like a laser, it can heal and it can destroy." "To have power," he said, "is almost an intolerable burden, because with that power comes incredible responsibility."
Along with the political corruption that he witnessed firsthand, Boraine spoke of the "humanity and vision and grace" of people like President Nelson Mandela and activists around the world who struggled against the injustice of apartheid. He shared his experience serving under Chairman Archbishop Desmond Tutu on South Africa's Truth and Reconciliation Commission, which was predicated on the belief that seeking the truth is often a difficult and demanding process, but one that can lead to remorse, repentance, and acknowledgement. Boraine said that the witnesses who came before the Commission found a tremendous sense of relief, which he attributes to the healing power of truth. "The antidote to the abuse of power is truth, coming clean, being transparent," he said. To assist other countries in pursuing such efforts, Boraine founded the International Center for Transitional Justice.
Moving beyond apartheid to other misuses of power, Boraine talked about the dehumanizing history of colonialism and slavery throughout the world. In Africa, "the seeds of exploitation of corruption and the abuse of power were planted by powerful men who drew lines on a map in foreign countries."
Boraine closed his talk with a powerful quote from Patricio Aylwin, whose democratic election as president of Chile brought an end to the reign of Augusto Pinochet: "There is an open wound in our national soul that cannot be ignored, nor can it be healed through mere forgetfulness. …Only the disclosure of truth and the search for justice can create the moral climate in which reconciliation and peace will flourish."
A recipient of Italy's President's Medal for Human Rights, Boraine was previously a professor of law at NYU and the director of the NYU Law School's Justice in Transition program. His most recent book, A Country Unmasked, was published by Oxford University Press in 2000.
Microsoft Counsel Analyzes Company's Legal Battles
David A. Heiner, vice president and deputy general counsel at Microsoft Corporation, examined the company's history of legal cases on platform integration in America and Europe at the Networks, Electronic Commerce and Telecommunications (NET) Institute Conference this April. The conference, held at NYU Stern and co-sponsored by the NET Institute and Stern's Berkley Center for Entrepreneurial Studies, featured cutting-edge academic research on electronic commerce, platform competition, and software competition presented by top academics from NYU Stern, Carnegie-Mellon, Harvard, University of Maryland, University of Texas, and several other universities.
During his tenure at Microsoft, Heiner has been on the front lines of Microsoft's response to government antitrust proceedings. After reviewing cases that grappled with the legalities of integrating hardware and software, Heiner addressed Microsoft's more recent legal challenges. Analyzing the application of antitrust law in the US and in Europe, and how businesses are regulated accordingly, Heiner pointed to several significant differences between the legal outcomes on each side of the Atlantic.
Following allegations that Microsoft unlawfully "tied" Internet Explorer to its Windows operating system, the US court ultimately allowed for the integration of the two systems while protecting opportunities for competitors through a series of requirements relating to the design and licensing of Windows. In a similar case, the European Commission required Microsoft to offer two separate versions of Windows – one with Windows Media Player and one without. Heiner compared the US court's focus on preserving competitive opportunities to Europe's focus on removing capabilities from dominant products. He also noted that the US court articulated a "rule of reason" approach to the issue, while the EU's analysis was more akin to the US "per se" approach to assessing liability.
Heiner concluded with insight into what Microsoft might expect vis-à-vis Windows principles, the EU court ruling expected in September 2007, and the increasing popularity of Web-based software that runs on any browser and any operating system.
"Having David Heiner of Microsoft on campus demonstrates how the Stern School of Business and the NET Institute remain on the cutting edge of research that informs today's public policy and affects competition in network industries," said Professor Nicholas Economides, executive director of the NET Institute. "It emphasizes the complexities and public policy challenges of doing business and competing aggressively in software markets and other network industries on a global scale."
Students, Alumni Debate Iconic Brands, Digital Music
This spring, two events brought together NYU Stern students, alumni, and professional experts to discuss hot trends in media: the challenge of maintaining iconic consumer brands, and the future of the music business in an age of digital downloads.
On April 19, "Death of the Icon Brand," an evening of lively debate with Lou Capozzi (BS '69), chairman emeritus of Publicis Public Relations and Corporate Communications Group, and Joe Gleason, professor, consultant, and founder of the Gleason Group, drew an audience of alumni and students. Carlo Mantica (MBA '01) kicked off the event, the third in a series of new events hosted by the Marketing Committee of NYU Stern's Alumni Council, by introducing the two speakers and Management Communications Professor Irving Schenkler, who moderated the night's discussion.
According to the branding gurus, companies must understand customers and their need to understand a brand. Capozzi and Gleason also grouped brands into four categories – identity, power, icon, and explorer brands – citing examples of each. Icon brands, such as Coke and Disney, create a symbolic world and invite everyone in.
So how can marketers in this day and age build and maintain iconic brands? Today, relationships between companies and customers are grounded in skepticism, and consumers have adopted a "Show me; Don't tell me" mentality, Capozzi argued. He further illustrated the differences between "The Control Age," an old industry philosophy that focused primarily on reach and frequency, and a new philosophy he dubbed "The Conversation," which emphasizes the importance of companies listening and having conversations with consumers. According to Capozzi, brands must adhere to three requirements to win in this "Conversation Age:" (1) engage thought leaders so they speak for you and about you; (2) talk the talk and walk the walk; and (3) develop strategic consultancy skills, not just individual tactics, to orchestrate integrated marketing communications.
Gleason believes companies have already been having a conversation with customers for years, and it's still not enough. He attributes a portion of the reality television show American Idol's success to the fact that executives were willing to completely turn over the brand to the public. In accordance with this trend, Gleason believes consumers are demanding ownership and a voice in the brands they choose. In order for the brand to survive, marketers need to be comfortable letting customers exert their influence on the brand.
On May 12, nearly 150 NYU Stern alumni and guests gathered for an insider's look at the digitization of music and its affect on the music industry from both a business and legal perspective. Part of the annual NYU Alumni Reunion Weekend, the event featured an acoustic performance by Chris Barron, the lead singer of The Spin Doctors, and a panel discussion entitled, "Charting the Digital Frontier: The Digitization of the Music Industry."
Hosted by the Entertainment, Media, and Technology Committee of the NYU Stern Alumni Council, the panel featured Barron and several industry experts: Josh Hubble, Universal Records; Steve Masur, Esq., managing partner for MasurLaw; Rob Weitzner, vice president, business development, Independent Online Distribution Alliance; and Adam Zelinka (BMUS '01), founder of boutique entertainment consulting agency Fanatical Marketing. Catherine Moore, director of the Music Business Graduate Program at the NYU Steinhardt School, moderated.
The panelists discussed how technological changes such as the mp3 file, iTunes, and myspace.com have propelled the industry into uncharted territory by presenting intriguing questions about the management of digital rights and the distribution and marketing of music. Barron discussed how the advancements in recording technology have made it easy for independent artists to record their own music. "My first record cost a quarter of a million dollars to record, and it was recorded in a studio that cost millions of dollars to build," he said. "Now I have my own home studio, and it cost me only $5,000."
Hubble agreed that the industry is changing quickly. "No one knew what a ring-back tone was two years ago. There are a lot of unknowns for the future." He added that with a 20 percent decline in CD sales this year and expectations that they will continue to decline, record companies are looking for new revenue streams. Zelinka conceded: "No one knows the future frontier of the music business, but consolidation is going to be a massive part of it." He argued that the money is in music publishing. "They make money with very little resources," he said.
Masur argued that the industry has been too slow to adapt to technological changes and that there are many new ways to make money, but they have to be built. Weitzner agreed that there is a lot of opportunity in the market and said, "The technology has forced us to redefine the music industry. The business model has to change."