Web Bites
By Stephanie Sampiere
When Jason Finger (MBA/JD '99) started law school, he didn't dream of becoming a top litigator. Even before classes began, he realized his instincts were more entrepreneurial than legal. And so, after receiving joint degrees at NYU Stern and NYU Law, and after practicing law for five months at a private equity-focused law firm, Finger struck out to create a business with some friends. They toyed with the idea of starting a cookie company before launching SeamlessWeb, which provides companies and their employees, as well as individuals, with an automated Web-based system for ordering from restaurants, caterers, florists, gift-basket purveyors, and other local vendors.
Finger's short legal stint gave him insight into optimizing SeamlessWeb. With professionals like lawyers and bankers spending countless hours at the office – and frequently enjoying meals courtesy of their employers – Finger realized that a service that enabled employees to order food quickly would be appealing. But, the special sauce was Finger's insight that vendors and companies would be eager to sign up because the service could offer streamlined back-end technology like automated billing and marketing services. In 1999, with $345,000 in seed money from more than 40 people, "anyone who would give us a second to talk," Finger and company set up shop. Investments ranged from $500 to $50,000, and each investor was offered a stake in the company.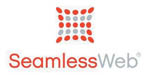 For the second round of financing, Finger and his team eschewed the traditional venture route, in which founders are often ousted in favor of the fund's desired management. Tapping into the original investors, and using his ties to fellow alumni, he raised an additional $1.4 million in capital from individual investors and a small venture fund run by a friend from college. These supporters stepped up once again when Finger and SeamlessWeb raised $650,000 to advance payments to restaurants that would have otherwise gone out of business during the aftermath of September 11th.
SeamlessWeb currently partners with more than 1,400 of the 15,000-plus restaurants in New York City. Restaurants can use SeamlessWeb's back-end technology to manage finances, but also to crunch data and drive increased sales from new and existing sources. "Our restaurants range in sophistication from 'Mom and Pop' type shops to national chains," said Finger, 35. "We want to introduce technology to the restaurant community so that these types of restaurants can have multiple channels through which customers can be acquired, an aggregated collections system with consistent payment, and their own websites."
SeamlessWeb sees orders for the healthier restaurants in its network increase in January and February when customers are still holding fast to their New Year's resolutions, as well as during the summer months when customers are gearing up for bathing suit season. True to the old adage, SeamlessWeb orders confirm that bankers enjoy steak, while lawyers prefer sushi.
SeamlessWeb's more than 1,600 corporate customers, which range in size from Fortune 100 companies to offices as small as three people, pay a nominal transaction fee and are guaranteed the lowest prices from the participating restaurants. Customers include 14 of the 15 largest investment banks, 80 of the AmLaw 100 law firms, more than 400 asset management firms, and in 2005, New York City Mayor Michael Bloomberg's re-election campaign. Allowing companies to quickly and automatically allocate and bill expenses without having to reimburse employees, and enabling employees to order food at the click of a mouse while correctly billing their clients, saves both money and time. The less time people spend ordering food, the more time they have to spend on work – or with their families. And, companies that lack the size or scale to support an onsite dining facility now can offer their employees inexpensive, broad food services programs.
"Part of our motivation is to allow people to get home to their families," said Finger. "Automating the ordering and eliminating reimbursements by providing real-time billing saves time for everyone involved. It's rare that a company can introduce a service where everyone benefits – the employees, the companies, our vendor partners, and individual consumers."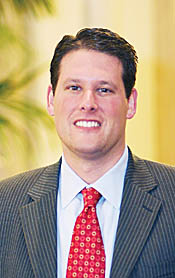 SeamlessWeb is currently available in 14 markets, all of which are prominent financial locations, including New York City, Greenwich and Stamford, CT, Boston, Chicago, San Francisco, Los Angeles, Houston, Washington, DC, and London. Finger believes the company has many opportunities for expansion into new markets and to the areas surrounding the cities it already serves. "Eventually, ordering food online will be as commonplace as ordering your plane tickets online," he said.
The company has already made a seamless expansion into the consumer market. After receiving hundreds of e-mails asking for use of the service at home, in 2005, SeamlessWeb expanded its service to include residential areas. Now, the consumer business is the fastest growing part of SeamlessWeb, and Finger sees it expanding to include take-out and text ordering.
Finger attributes much of the company's rapid success to its New York City home base. "We wouldn't be as far along if we had started in any other market," he said. "New York is the financial hub of the world. There is not only a wealth of clients here, but a wealth of advisors. And New Yorkers are among the most demanding consumers out there. It is great to develop best practices here, because if you can provide good customer service in New York, you can generally knock the cover off the ball in the other markets."
Part of Finger's New York experience includes his education at Stern and NYU Law. He looks back fondly at his time spent in Washington Square and believes the courses he took at the law school as well as the Stern courses on entrepreneurship, finance, marketing, and probability helped prepare him as he built SeamlessWeb. "I may not remember all of the formulae, but the broad education from some of the finest minds in academia helped me realize how the numbers all work together."
In April of 2006, SeamlessWeb was acquired by Aramark, the giant food and professional services company, and Finger became part of the senior leadership team. The partnership offers "the right balance of support and autonomy," he said. "We are now part of a much larger organization that has consistently demonstrated a strong belief in the future of SeamlessWeb. We are able to invest in our growth with a long-term perspective and can consider ways to move the business forward, leveraging a multi-billion dollar global company." Finger hopes that investment will pay off seamlessly.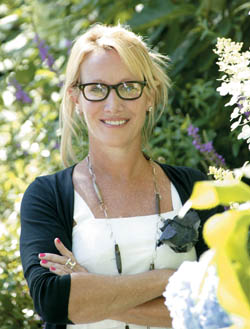 Designing Woman
by Jenny Owen
Down the hall from her mother's antique furniture boutique, Lisa Jackson (BA '80, MBA '85), her partner Catherine Aaron, and several assistants plan how they'll design the interiors and furnishings of some of New York City's most affluent residents. The Jackson Aaron office is located in the Interior Design Building on East 61st Street, in the Manhattan neighborhood where she has always lived.
"I've been on the Upper East Side my entire life, and I understand the New York lifestyle philosophy so well. I live it," Jackson said, explaining how her roots have helped her connect with her clients – who include actress Renée Zellweger, designer Vera Wang, real estate developer Edward Minskoff, fashion executive Mario Grauso, and other sophisticated New Yorkers – who share the same aesthetic sensibility.
While her professional reputation, social connections, and charity work have all helped land her impressive list of clientele, Jackson asserted that word-of-mouth from satisfied clients keeps the business booming. "It's important to keep your clients happy," she said.
A little more than a decade ago – after obtaining an MBA from NYU Stern and working for more than 10 years at her father's international industrial and marine distribution business – Jackson started her interior design firm while enrolled in a two-year interior design degree program at Parsons School of Design. "I got a call one day from a charming bachelor and he said, 'Can you decorate?'" She replied, "I'm sure I could." That was Jackson's first project. "Then I got busy with more projects and called up Catherine [Aaron, a classmate] and asked her if she wanted to help with the work," she said. "We've been together ever since."
The partners started the business with only $50,000 and began making a profit in the first year. "We used to do whole projects for what we now get [as a deposit] before we even start. We wanted to work as much as possible for as many people as possible. We're far more selective now."
The two undertake the creative work together, but Jackson focuses on growing the company, while Aaron oversees production. Their interior design projects are primarily residential, but they have done a bit of commercial work too.
They describe their style as "classic and tailored with a twist." "We like things to be able to stand the test of time," said Jackson. "Our palettes are neutral with some pop. We don't do a lot of pattern on pattern. We like to balance the new with the old."
Jackson Aaron's designs have been featured in Architectural Digest and House Beautiful, and their work on the home of real estate moguls Frederic and Tami Mack was splashed over six pages of Elle Décor.
Within two years of its formation, Jackson Aaron opened an antiques shop. Six years later, the partners launched a modern furniture line. "It was a natural extension for us," Jackson said.
"Formal, carefully-made, tailored, and rooted in the designs of the 30s and 40s," their furniture is sold online, to the trade, and in their office building.
In December 2006, Jackson Aaron bought Luca and Company, a young, retail furniture business offering "sophisticated, Belgian antiques." Under the helm of Jackson Aaron, Luca and Company was re-launched at the New York Design Fair in February 2007, and the furniture is sold at two locations in New York City.
According to Jackson, the company plans to spend the next year focused on building both furniture lines. Her hope is to expand the retail line to Los Angeles and Chicago. "Design is a labor of love and I've been lucky to work for some incredible people and design some incredibly beautiful homes. But I really like the idea of growing businesses. I want to build a retail empire."
After spending more than a decade helping to build an international presence at her father's company, where she now serves on the board, Jackson decided to build on her own creative aspirations. "I had worked with my family's business for many years, and I had always had this creative side," she said. "When I decided to go to Parsons, I knew that could be a fork in the road. I had traveled the world and, at that time, I had small children, and I didn't want to travel much anymore."
Jackson said it was her business acumen that helped launch her creative career. "My business background has allowed us to work in this business – work on the high-end – and be a professional organization. I don't think we could have done it otherwise. It is as much about business as it is about being artistic."
Although having an MBA is unusual in the interior design industry, Jackson said the degree "lends credibility to anything that you want to do." She chose to study at NYU Stern because it offered a more flexible program while she worked, and because NYU was her alma mater. "I learned how to be incredibly resourceful in business school. And, through all of the group projects, I learned how to work with people."
She ascribes much of her success to people skills, as well as hard work and focus. But for those interested in launching their own interior design firms, she cautioned, "The entrepreneurial spirit is either yours or not. For me, I like being the boss." She also recommended that one work in the field before setting up shop: "It will lend a credibility that I didn't have in the beginning. And experience is helpful. We were just figuring it out as we went along."
And figure it out, she did. But for Jackson, the ultimate success is as simple as "going to dinner in interiors we've decorated and seeing that they look and function as well as we hoped they would." At this rate, she's certain to accomplish much more of that.