MBA Students Find Profitable Nonprofit Experience
NYU Stern Langone students Linda Tsai and Christina Chan can add nonprofit experience to their expanding resumes, having spent 10 weeks last fall participating in the Stern Consulting Corps (SCC) – Stern's internship program with New York City's nonprofit organizations and small businesses. Both were partners on a marketing project for Step Up Women's Network, a nonprofit organization dedicated to helping women and children through fundraising, volunteering, and professional networking. Their charge: to develop a marketing plan that would help increase the organization's membership.
"I had the opportunity to learn about the nonprofit sector and to be part of an industry whose sole focus was not on profitability, which was important to me, coming from a finance background," said Tsai. "I also made new contacts with interesting, bright, and hard-working individuals."
Tsai and Chan conducted market research, an approach that sometimes gets short shrift in the public sector due to resource constraints, and found it was most helpful in addressing Step Up's business challenge. Together they analyzed membership trends to determine what drives new memberships and the rate of renewals. They also conducted focus groups and a membership survey, compiling all of the quantitative data from their findings to identify patterns that would help inform their recommendations.
For Chan, the timing was everything. "I was taking a marketing course during my SCC internship, and the first four weeks at Step Up mirrored exactly what I was doing in class. All of the concepts I learned were immediately put to good use."
Chan and Tsai are two of the more than 350 Stern MBA students who have helped further the missions of SCC partner organizations, such as Habitat for Humanity, the Coalition for the Homeless, and the William J. Clinton Foundation's Urban Enterprise Initiative, to cite a few. And Stern students aren't the only ones taking part. Alumni and School supporters who have made the pursuit of social good a personal priority inaugurated paid fellowships for SCC-participating students in the fall of 2006. The fellowships were established by The Small Acts of Kindness Foundation (SAKF), Board of Overseer Member Jane Sadaka (MBA '80), Stern alumnus Fred Zeidman (MBA '70), and Stern's MBA Class of 2005, as part of its Legacy gift.
"Supporting the SCC is a way to honor Paul, who was committed to helping others," said SAKF President Amy Radin, explaining how her family, with the support of Paul's friends and colleagues, created the fellowship in memory of her brother, Stern alumnus Paul J. Friedman (MBA '87), who perished in the attacks of September 11, 2001. "The SCC enables a new generation of Stern business students to improve their communities while gaining valuable, practical business knowledge."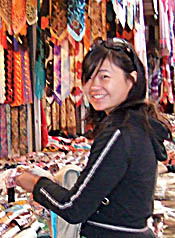 In-Tents Fulbright Experience
"You don't get to stay with a nomad family in a yurt on your average vacation," remarked April Gu (BS '06), describing one of her most vivid experiences thus far as a Fulbright Scholar studying the economic impacts of divorce on women in China.
Gu arrived in Beijing last September along with a handful of fellow Fulbright Scholars, each with lofty research goals and ambitions for personal growth. Gu, who emigrated from China at the age of five, was eager to return to her roots and make a positive impact on Chinese society.
"My research deals with how divorce affects women financially," she said. "Although once viewed as a tool for empowerment, divorce often leads to financial hardship for women, as the inequitable wage distribution between genders causes the higher, or sole, income to be lost." Her research aims to determine which women are most affected by divorce and how the government can use welfare programs to improve the lives of these women.
As part of her research, she has interviewed divorced women, monitored Internet discussions in both Chinese and English, and translated and reviewed academic papers. "Because this topic has yet to be studied in China, I believe that interviews with affected women are the most important resource for information at this stage," she explained. "But it is often difficult, as divorce is a highly sensitive issue."
Reflecting upon her research thus far, Gu said, "I didn't expect the urban and rural divide to be quite so large. Divorce, as a function of economics, looks very different from the perspective of a woman with a college degree than from the perspective of a woman who graduated from middle school and migrated to a large city for work." Her hypothesis has remained the same, but her new perspective on China has allowed her to examine the stratifications of society more deeply.
Gu was inspired to apply for a Fulbright Scholarship by her experience at Stern: "All of the students are so motivated – you are forced to define ways in which you can succeed or stand out. The environment at Stern served as motivation for me not to be apathetic and to take a chance and do something meaningful with my education."
After she completes her research, Gu plans to go to law school in the fall. And when she goes, she will be armed with "a deeper understanding of not just China, but the challenges that face developing countries everywhere."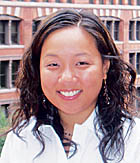 Social Networker
Second year full-time MBA student Carolyn Chen doesn't regard business school as a means of obtaining a "traditional" job in finance or consulting. Rather, she believes the MBA will help her to build a career in which she can make a social impact. And such career goals don't place her at odds with fellow classmates who are pursuing finance-related careers. "The downtown location of NYU means that everyone has a little bit of an edge," Chen remarked in a recent Financial Times article. "When you live and go to school in such a vibrant neighborhood, even the traditional bankers and traders are extremely committed to the community."
After spending four years in healthcare consulting, followed by positions at the prominent nonprofit organizations Teach for America and Doctors without Borders, Chen came to believe that getting an MBA was a critical next step. While she found it easy to move from the private sector to the public sector, she knew that an MBA would help her move up in the public sector and open more doors.
According to Chen, choosing to come to Stern was a "no-brainer" because of its initiatives in social entrepreneurship. On campus, she has been engaged in virtually every opportunity possible, from Stern's student clubs to its student-run social venture fund. Chen is also an in-house expert on social enterprise for prospective students who share her same passion, and blogs regularly about the subject on Stern's admissions website, which generates hundreds of e-mails each month.
In a recent blog posting, she recapped her first semester final presentation for Professor Jeffrey Robinson's Foundations of Social Entrepreneurship class. Her team's venture concept was to turn the Stern café (Sosnoff Lounge) into a student-run enterprise – complete with vendor partners for the food and drink – that would be staffed by Stern undergraduates and managed by Stern MBA students. The proceeds would go to a social enterprise fund to help finance nonprofit internships over the summer. According to Chen, "our presentation was a hit!"
Chen is also the vice president of career development in the Social Enterprise Association and director of social entrepreneurship in the Entrepreneurs' Exchange, both MBA student clubs. She is amazed by the diversity of her fellow club members. "We all have varying business function expertise – from IT to marketing to management – and we bring our unique experiences and perspectives to all of our club activities."
What is on the career horizon for Chen? Last summer she secured a highly coveted internship as a summer associate in corporate citizenship at Pfizer. After graduation, she hopes to continue in the field of corporate social responsibility with the intention of starting a social venture of her own in the near future.
Globalization Maps a New World
"While some countries are reaping the benefits of globalization, others are completely disappearing from the map," asserted James Forsyth, Stern senior and co-chair of the 2006 NYU Stern Summit on Global Business student planning committee. "To date, we haven't quite figured out how to help the countries suffering from the ill effects of globalization."
Every two years, students at Stern's Undergraduate College host the Summit to promote dialogue around timely global and domestic business issues. In October, Stern held its fourth Summit, which explored the theme, "The Disappearing Third World: A Paradox of Growth." The Summit was attended by more than 200 students from NYU, Stern, and more than 20 leading business schools.
Over the course of the weekend, students heard from speakers and panelists and engaged in a provocative discussion about globalization and its effects on developing nations. "Our view of globalization in the United States is skewed," Forsyth argued. "We think because globalization is helping us, it must be hurting no one." Conference speakers and panelists addressed this common misconception and offered suggestions on how to improve assistance to developing countries. During his keynote speech, William Easterly, NYU professor of economics, advocated a "bottom up" approach to providing aid, which begins with an understanding of the individual countries and communities in need before considering how to give money.
Keynote speaker Paul Solman, business and economics correspondent from "The News Hour with Jim Lehrer," provided an overview of society's conflicting views on globalization. In his presentation, "The Bandwagon and the Backlash," Solman alternated between the viewpoints of those in favor of globalization (the Bandwagon), and those who only see globalization's negative results (the Backlash). Lisa Butcher, Stern international programs administrator and conference co-administrative liaison, explained: "He even brought a red wagon and a whip on stage to help illustrate both sides of the issue."
"Students from visiting schools said that they learned a great deal about globalization and enjoyed making contacts with other students who share their passion for global business," remarked Carmen Johnson, Stern senior associate director of international programs and Summit administrative liaison. In between debates, speeches, and panel discussions, the visiting students found time to sample the Big Apple. They enjoyed international cuisines, a Broadway show, and a tour of their choice of one of five city sites – the Federal Reserve Bank of New York, the Mercantile Exchange, the New York Stock Exchange, the United Nations, and the United States headquarters of Ernst & Young, which sponsored this year's Summit.
The Summit was a profound experience for Stern students as well. "As a future business leader, I now realize how important it is not only to understand the global economy, but also to effect social change," said Forsyth. "The Summit has really inspired me to play an active role in putting some of these disappearing countries back on the map."