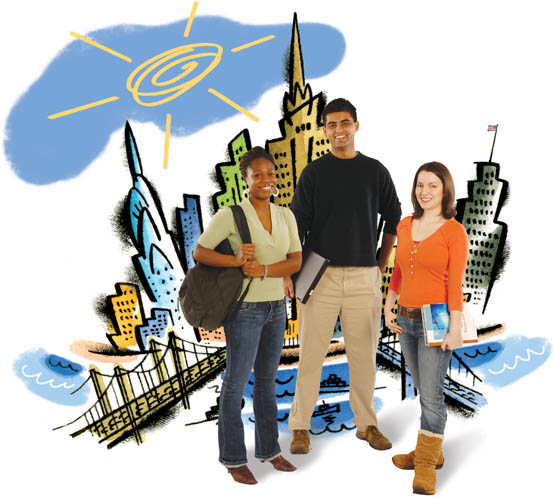 illustrations by Steven Salerno

What today's undergraduates learn -
and what they teach us
By Daniel Gross

ver the last 25 years, NYU Stern's Undergraduate College has been transformed. Once a regional school serving commuting and part-time students, the college now draws students not only from the local area but from California, Texas, India, and Korea, among others. In fact, some 16 percent of Stern undergraduates are now international students; a full 60 percent come from outside the tri-state area; and 90 percent of freshmen live on campus.
Sure, their numbers – the high grade point averages, the off-the-charts SAT scores – are impressive. But today's undergraduates are far more than the sum total of their admissions dossiers. And this diverse group is as committed to community service and leadership as it is to taking advantage of everything NYU Stern has to offer.
"The kids that we're seeing could be going to any school in the country," said Sally Blount-Lyon, Dean of the Undergraduate College. "They're choosing Stern because of its innovative curriculum, high-energy student body, and advantageous location in New York City." And today, Stern is able to offer a unique combination of classroom, real-world, and global experience, thanks in part to support from alumni.
When they arrive on campus, today's undergraduates have an enormous array of resources at their disposal. And while the curriculum focuses on providing an excellent core background in both business and the liberal arts, the undergraduate experience aims to meet broader goals. "We want to prepare our students to be able to think complexly about challenges that will face our global society over the next century," said Dean Blount-Lyon, "so we have to help our students develop an expansive world view."
In the 21st century, businesses will increasingly confront challenges that cross economic, political, and social boundaries. And so the education Stern students acquire in economics, finance, and management classes cannot simply be ends in themselves. Accordingly, Stern has developed a four-course sequence called the Social Impact Core that weaves topics from across the curriculum into themes about the interaction between business, society, and ethics. The first course that undergraduates now take at Stern is Business and its Publics, which has brought to campus leaders such as Mary Robinson, the former President of Ireland and now the United Nations High Commissioner on Human Rights, to talk about important issues concerning business and society.
During their junior year, as part of the Ed and Nancy Barr Family International Studies Program, all students follow a year-long international curriculum that culminates in a week-long study trip abroad. Over the course of this trip, each student has the opportunity to interact with middle and senior managers of significant companies in foreign countries. "Nothing compares educationally to standing in the middle of Posco's largest steel mill in Pohong, South Korea, and talking to the Korean managers who run the plant," said Dean Blount-Lyon. "Or touring the world's largest copper mine in Chile, meeting with the senior management of Toyota Motor Corporation outside Tokyo, and visiting Bayer Schering Pharma AG's headquarters in Germany. These are the kinds of experiences we're making sure every student gets." In addition, students are also encouraged to study abroad for a semester or more. Now, nearly one-third of Stern undergraduates spend time at campuses located as far away as London, Florence, Shanghai, Hong Kong, and Sydney.
Other programs contribute to the social and cultural growth of students. The Cohen Arts and Culture Experience provides students with the opportunity to take advantage of the full range of New York's cultural riches: museums and Broadway shows, classical music, and athletic events. "Going to see the New York Philharmonic, watching Itzhak Perlman play a violin solo, and then meeting him backstage during intermission – opportunities like that are now part of the Stern experience," said Dean Blount-Lyon.
Today's undergraduates leave Stern uniquely equipped to enter the global business world. Spend some time with them, and it's easy to see how at home they are in New York – and in the world. Some 97 percent of undergraduates find positions within three months after graduation. And these dynamic students also leave with a mindset, a background, and a perspective that will allow them to continue to evolve and grow. After all, as Dean Blount-Lyon points out: "The students who are graduating now will have to solve the leadership challenges of 2040."
The following student profiles show how Stern undergraduates bring tremendous energy and passion to campus, eagerly embracing all that NYU Stern – and New York – has to offer them.
From Russia With Jazz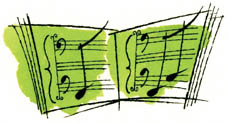 Born in Russia, near Moscow, Yuriy Prilutskiy (BS '07) moved to the United States in 1992 at the age of six. The family – his father is an aeronautical engineer and his mother is a pianist – settled in Princeton, New Jersey. He recalls entering the first grade and not knowing a word of English. But Yuriy learned quickly. "By the end of second grade, I was pretty much fluent."
Fourteen years later, he's fluent not just in English, but in the languages of finance, economics, and jazz piano.
The ability to pursue all of these interests is what led him to NYU Stern. At Princeton High School, Yuriy had an interest in business and economics. "Once I narrowed down my field, I saw New York as the center of the financial world."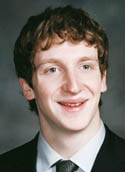 But Stern had another pull. Yuriy is a jazz pianist. And as an undergraduate, he had the opportunity to play at clubs near NYU's campus, including the Blue Note, Cleopatra's Needle, and Small's. "It's tough to describe how amazing it is that I ended up in a place where I could pursue academic interests, pursue career interests, and do what I have a passion for," he said.
Intent on majoring in economics, he quickly added finance to the mix. "Stern students are so focused and passionate about their concentrations; they read The Wall Street Journal all the time, and everybody has fantasy portfolios. So the atmosphere was conducive to becoming interested in finance." He joined clubs such as the Investment Analysis Group and the Economic Society.
Among his memorable courses: financial management and investment principles. "These were among the most difficult and challenging courses, and they were just phenomenal," said Yuriy. "When it came time for my job search, I was able to bring projects from those classes to interviews."
But for Yuriy, the experience went beyond studying finance or playing in jam sessions. He joined a fraternity, Alpha Epsilon Pi, where he became the philanthropy chair, doing everything from volunteering at a soup kitchen to tutoring kids on weekends.
And he took advantage of what New York and Stern had to offer. The summer after his second year, he worked in the law firm of Richard Hendler, clinical professor of business law at NYU Stern. After his junior year, he worked in corporate finance at Kraft Foods in Tarrytown, New York.
Having completed his degree in January 2007, Yuriy accepted a job in equity research with Bank of America Securities in New York, which he will start in June. "I wanted to get into investment banking, and this opportunity came along."
About to embark on a career in finance, Yuriy looks back at his years at Stern as fulfilling ones. "I had a law internship, I played a lot of piano, and I was able to fulfill every academic and cultural desire I had."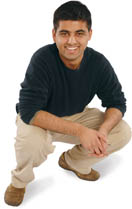 Exploring the World
When Santosh Sateesh (BS '07) arrived at Stern from Florida for his freshman year, it was only the second time he had been in New York. "I had lived in small towns all my life," he said. "But I knew I wanted to go to a school where I could get a solid theoretical background in finance as well as a liberal arts education, and NYU offered a pretty good mix."
Four years later, the adjustment is nearly complete. A double major in finance and economic policy, he parlayed an internship at Lehman Brothers into a job offer to work on the structured credit trading desk. "I definitely knew I wanted to do trading because the fast pace interests me," he said.
Clubs and organizations at NYU and Stern helped ease his adjustment to the big city. Santosh was part of the Scholars Program – a group of 70 to 80 students chosen from each incoming class on the basis of academic and leadership records. Together, the group takes part in executive leadership and community service activities. "We worked on an urban farm in Red Hook, and worked with the Urban Assembly High School on tutoring programs."
Academically, Santosh viewed his undergraduate years as an opportunity to explore. An interest in political economy led to courses like Professor Stephen Cohen's World Cultures Russia course – an overview of Russian history from 1917 to the present – and Professor of Economics Barbara Katz's course, Economies in Transition. (Santosh wrote his thesis on Russian political reform.) Working with students at Stern and throughout NYU, he also started the Journal of Politics and International Affairs, which comes out annually.
Santosh spent a sophomore year semester studying Italian history, economics, and language at NYU in Florence. The following summer he volunteered at a nonprofit organization in Bangalore, India, focusing on infrastructure development. "I had gone there a few times with my parents, but had never worked there before," he said. (Santosh's parents moved from India to the United States in 1978.)
As part of the Ed and Nancy Barr Family International Studies Program, which is required for every Stern junior, Santosh traveled to Chile with a group of students from his class. The whirlwind trip included a consulting project for LAN Airlines.
And thanks to NYU Stern, Santosh was also able to explore closer to home. Through the Cohen Arts and Culture Experience, he was able to see the New York Philharmonic three times, and to meet violinist Itzhak Perlman backstage after a performance.
He and his roommates also were able to enjoy other uniquely New York experiences, like roaming the city in search of the best pizza joint. His nominee: "A place on Avenue J in Brooklyn called Di Fara," he said. "You get there on the N train." Spoken like a true New Yorker.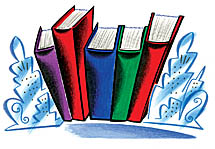 A Snapshot of NYU Stern's
Undergraduate College Today
Quality and Competitiveness (based on the freshman class of 2006)
-Enrollment: 2,306
-Average SAT score: 1441
-Average grade point average: 3.76
-Class profile:
Women: 37.3%
Underrepresented minorities: 10.2%
International students: 16.2%
-Geographical distribution:
From New York City: 10.4%
From the surrounding metropolitan area: 29.8%
From across the nation and around the world: 59.8%
Interests
-As part of the Ed and Nancy Barr Family International Studies Program, students in their junior year choose from three locations for their travel abroad:

-More than 350 student leadership positions are available at the School
-Students complete more than 12,000 hours of community service each year
-Students can choose among eight majors, and may also choose to double major
Seniors of the class of 2006 chose the following majors: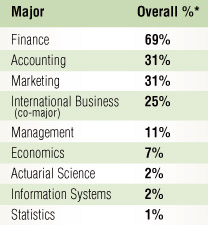 Placement (based on the 2006 graduates)
-Average starting salary: $54,300
-Placement rate: 97%
Hometown Girl
Andrea Jeffrey (BS '07) grew up a few miles from NYU Stern's campus in Brooklyn's Bedford-Stuyvesant neighborhood. As a student at Nazareth Regional High School, she participated in an Upward Bound college preparatory program that exposed her to NYU. "I was interested in staying home, and I knew that I wanted to study accounting."
But she chose NYU Stern in part because she knew it would offer her a different experience. "Where I grew up, the population was predominantly black and Hispanic," she said. "One of the primary reasons I decided to come to NYU was that I felt like it would mirror the workplace."
Initially, she focused on accounting. "I wasn't sure what area I wanted to pursue, but I was able to learn a great deal about different topics and industries that I could work in," she said. She also found the Legal Aspects of Business course, which gave students a context for understanding the legal jargon they frequently encounter, to be valuable.
After commuting for two years, Andrea became a Resident Advisor in her junior year. Living on campus made it easier for her to keep up with school while maintaining her involvement in campus organizations. She's a member of the Dean's Advisory Board on Community Service and involved in the Student Enrichment for Academic Development Program. A member of the National Association of Black Accountants, she has participated in a range of community service activities, from the March of Dimes to Breast Cancer walks.
Each summer, Andrea worked at the accounting firm Ernst & Young. The first summer, she focused mostly on human resources issues. "I was able to hone in on the culture and more of the internal environment within companies." Last summer, she had an internship in the transaction advisory services group. "That gave me exposure to the sort of deals that first-year accountants work on," she said. "It was a real-life experience." At the end of the summer, Andrea participated in an Ernst & Young international leadership conference in Florida. After graduating in May, she will join Ernst & Young as a staff accountant, working in both transaction advisory and auditing.
Because the Stern experience has whetted her appetite to work in a more global context, Andrea added a second major in international business. As part of the Ed and Nancy Barr Family International Studies Program, she traveled to Germany her junior year, visiting the media company ProSieben. Beyond learning about the intricacies of a global company, Andrea and her fellow students took away other valuable lessons. "We got exposure to academics, but also to the cultural aspects of doing business in Germany," she said. "I've always lived in New York, and the experience definitely increased my interest in expanding my horizons and living in another culture."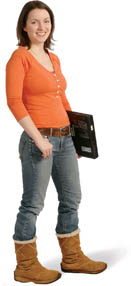 Teaching Lessons
"New York was the last place I thought I'd want to go to college," said Maryrose Rappold (BS '07), who grew up in a suburb of Baltimore. But when her older sister, who had moved to New York, encouraged her to look, she liked what she saw at NYU Stern. "I wasn't set on being a business major, but I didn't really know exactly what I wanted to do," she said. "After visiting, I realized it offered such a breadth of academic opportunities that I knew there would be something here I could find my interest in."
That something turned out to be several things: teaching, the ethical implications of business, and an interest in nonprofit organizations.
An economics and international business major, Maryrose quickly became involved with the Stern Business Ethics Society. "It was created as sort of an outlet for people who wanted to look into social entrepreneurship and topics of ethical dilemmas in business," she said. Each year, the Society participates in a competition for students in Los Angeles. Groups make a 30-minute presentation about an issue in business, analyze it from business, legal, and ethical points of view, and make suggestions as to how executives should act. Her freshman year, when the topic involved McDonald's marketing to children, her team won the prize for best ethical argument. Last year, Maryrose was president of the Stern Business Ethics Society.
Teaching was also a focus of her undergraduate years. The summer after her freshman year, she taught English in China's Hunan province for two months. "It was more than an experience, it was a cultural exchange, and it was really neat," she said. The summer after her sophomore year was split between working in The New Yorker's legal department and teaching math to sixth and seventh graders in Chinatown.
Over the years, Maryrose found that her fellow students share her interest in issues beyond numbers and finance. "It's taken for granted how interesting students at Stern are," she said. "When they're not in their classes, they're doing so many interesting things; everybody is into so much."
During her junior and senior years, she was a campus campaign manager at NYU for Teach for America, helping to recruit NYU students for the organization that encourages college graduates to spend a few years teaching in disadvantaged public schools. Having graduated in January 2007, she is now working in the headquarters of Teach for America in New York and preparing for an assignment next fall teaching special education in the Raleigh/Durham area of North Carolina.
Maryrose will take her experience studying business into the classroom. And she plans to use it down the road. "After the two years are up, I could definitely see myself coming to work in a professional role in nonprofit management."