Putting Principles into Practice: MBA Students Manage $2M Investment Fund
What's the best way to teach MBA students how to run an investment fund? Let them manage one, of course. At NYU Stern, students are doing exactly that, thanks to the Michael Price Student Investment Fund (MPSIF), which was established in 1999 through a generous gift from Michael Price, managing partner at MFP Investors, LLC and former chairman of Franklin Mutual Series funds.
The Fund, which is part of the overall New York University endowment, provides Stern MBA students interested in pursuing a career in asset management with hands-on experience managing a real fund. MPSIF is part of the two-semester Managing Investment Funds course taught by Richard Levich, professor of finance and international business and deputy chair of the finance department. Students must apply to the course, and demand has consistently exceeded the approximately 45 available spots.
After serving as an analyst during the first semester, screening and evaluating stocks, studying industry sectors, and preparing and presenting pitches for buy and sell recommendations, Michael Turgel (MBA '06), CPA, was appointed in fall 2005 as co-portfolio manager to oversee the Value Fund, one of three equity funds in the $2 million MPSIF's family of funds, which also consists of a Small Cap Fund, Growth Fund, and Fixed Income Fund. Managing the Fund entailed "checking the news of the market every day; staying in touch with our Fund analysts covering certain stocks that are either blowing up or tanking so we can understand why; and assigning sectors and stocks to team members and making sure they are covering them" – in short, a typical day in the life of any Wall Street fund manager.
The biggest struggle for the managers, according to Turgel, is the MPSIF's dual mandate – it is required to pay a 5 percent annual dividend to the University of Oklahoma Price School of Business, Price's alma mater, for its students to attend summer classes at Stern, and it has to keep pace with inflation. "We have a mandate to have an absolute return of no less than 8 or 8.5 percent," Turgel said. "However, we're also benchmarked to our index – for example, our Value Fund is measured against the Russell 1000 Value Index – so we have a relative measure that we have to exceed as well."
The students have easily met and exceeded this challenge, earning a cumulative return of 44.3 percent (at February 2006) since the Fund made its first investments in March 2000, and outpacing its benchmarks by 20 percentage points.
The Fund pays non-financial dividends as well. "The class truly helps students differentiate themselves for employers," said Professor Levich. "If they're looking for a job with investment managers and they're in an interview and are asked for their opinion of the stock market, they can pull out the reports they wrote showing the analysis of stocks they pitched for the Fund."
The pay-offs for students are evident too. "Given the fact that we were managing real money, that it was student-run, and that we had oversight from the advisory board and Stern faculty, it felt like we were running a mutual fund," said Turgel, who now works as an analyst at Eaton Vance, a mutual fund company in Boston, within the floating-rate bank loan group. "I don't think I would have gotten my job without it."
Benefit Consultants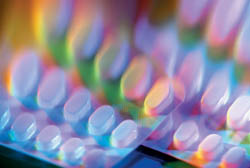 Many NYU Stern students travel far and wide during breaks and vacations to work with nonprofit and charitable groups. But a group of undergraduates are applying their skills and energies to affect social change closer to home.
As part of its effort to enroll eligible seniors in the new Medicare prescription drug benefit – Medicare Part D – before the May 15, 2006 deadline, the New York City Department for the Aging (DFTA), decided to partner with a business school. NYU Stern was a natural choice. "There was a real need for volunteers with computer savvy, bilingual capabilities, interpersonal skills, and an eagerness to help," said Stern alumna Lenore Glickhouse (BS '72), associate director of the Aging in New York Fund (the Department's charitable arm). "I knew the Stern students could offer all of that."
A group of Stern students trained and worked side-by-side Department professionals to help seniors navigate the Medicare online form at a number of different sites around New York City.
Sunny (Sandeep) Parihar (BS '07), a Stern Scholars student who volunteered on several occasions in April and May at a center in Hunts Point in the Bronx, said his volunteer experience offered him the opportunity to apply his soft business skills to a social service setting while making a contribution to the local community. "It required me to take initiative and to be very focused. And patience – without it, I wouldn't have gotten very far. I also had to pay attention to detail. These are people's lives, so you can't overlook any detail," he said.
Students also gained something from the effort. "When working with the seniors on the application, they would often start talking about the good ol' days. The stories they told were very interesting, and funny," said Parihar. "A lot of these people came in nervous and confused, and would get easily upset with the process. It was rewarding in the sense that I knew at the end of the day that they were better off than before they came in."
With the assistance of Stern students and other partners, DFTA was able to aid hundreds of seniors at 44 enrollment and information centers citywide in enrolling in the Medicare Part D Plan. The Department hopes to continue to partner with Stern students for future enrollments. "I was most impressed with the students' reason for volunteering," said Glickhouse. "They weren't there because they had to be, but because they wanted to be. And we hope to continue to work with them in the future."
With students like Parihar, the Department can be confident they will continue to receive Stern's help. "Everyone has to do their little bit. I feel like I did mine. Can I do more? Sure. Will I do more? Yes. I get an overall feeling of satisfaction by being able to do my part," said Parihar.
Stern Undergraduates Ride with Business Legend Warren Buffett
"Who would refuse an offer from Warren Buffett to go for a drive in his car?" asked recent NYU Stern graduate Sonali Patel (BS '06). Patel and 16 other NYU Stern undergraduate students recently had a chance to do just that. "I was expecting a limousine, but as we walked to the parking garage at his corporate offices, I quickly realized that the group was going to pile into Mr. Buffett's Lincoln, which sports the custom license plate 'thrifty,' and that he was driving," she said.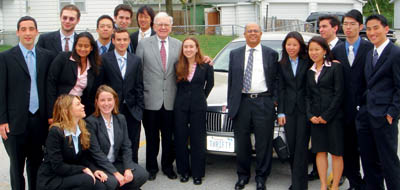 The excursion to Buffett's hometown, Omaha, Nebraska, was part of a day-long visit with the CEO of Berkshire Hathaway, a diversified company with holdings in insurance, utilities and energy, retailing, and investments. Buffett, the nation's second wealthiest man (behind his friend and partner in bridge and philanthropy Bill Gates), had generously agreed to spend the day with these Stern undergraduates, who are part of the Undergraduate College's Senior Honors Program, and Professor Marti Subrahmanyam, Charles E. Merrill Professor of Finance and the director of the Honors Program.
The students visited two of Buffett's businesses: the Nebraska Furniture Mart, a chain with more than $600 million in annual sales, and National Indemnity Company, Buffett's primary insurance group. The highlight was the time spent with Buffett, and going to lunch at one of his favorite local steak houses. During the two-hour Q&A session, Buffett told the students that they could ask him about anything except his next deal.
Buffett's warm, easy-going style came as a pleasant surprise to the group. "Mr. Buffett was the most down-to-earth executive I've ever met. You meet him and you have complete faith in the business world," said Patel. "He didn't talk down to anybody," added Subrahmanyam. "He took every question seriously and answered each one patiently. He has incredible people skills."
Patel said she walked away from the experience with two key insights from Buffett: first, to figure out what you are good at and pursue it with passion and, second, to follow your gut. "Mr. Buffett is living proof that you can really make a difference in the world. This was an experience that will influence me throughout my career," she said.
Lights, Camera, AXE-ion… MBA Students Screen Branded Entertainment Films
NYU Stern students interested in working in media don't have to wait until graduation to get involved in the intricacies of film production. Since 2004, groups of MBA students have been working with counterparts at the Kanbar Institute of Film & Television at NYU's Tisch School of the Arts graduate programs to produce branded entertainment films for major companies.
On May 2, NYU Stern ProMotion Pictures Film Competition's three winning films, produced by Stern MBA students and directed by NYU Kanbar graduate students, premiered for this year's sponsor, Unilever's AXE body spray. Screened in front of a group of 200 people who munched on popcorn and concession-stand candy, the films featured the popular body spray and depicted the "AXE Effect," which gives guys the edge in the dating game.
At the red-carpet gala, each winning team received a framed copy of its script with comments and a surprise early review from one of NYU's own: award-winning filmmaker Spike Lee (NYU Kanbar, MFA '82).
Kevin George, Unilever vice president/general manager, Deodorants, underscored the advantages of sponsoring the NYU Stern ProMotion Pictures Film Competition in a recent Wall Street Journal article: "We're trying to push the boundaries of branded entertainment and create engaging promotions that our 18- to 24-year-old target male will seek out," he said. "The NYU students working together understand both business and creative filmmaking, a combination we don't find often enough in people. They have created scripts that fit the Axe sensibility and aren't clichés."
MBA student and ProMotion Pictures Executive Producer Jonas Greenberg (MBA '07), who worked for Twentieth Century Fox in Los Angeles before coming to NYU Stern, said the program has helped him build relationships with executives from major companies, such as Heineken, Verizon, and of course, Unilever. "This competition has given me the unique opportunity to supplement my MBA coursework with valuable real-world experience in branded entertainment, which I'll bring to my future career," he said.
The competition, created by Stern alumni Jeffrey Grossman (MBA '04) and Russ Axelrod (MBA '05), is sponsored by a different company each year and awards upwards of $150,000 to three winning teams to produce the short films, which are used as part of the company's marketing campaign. The competition began in 2004 when Volvo signed on to have students create branded entertainment films to support the US launch of its Volvo V50 station wagon. In 2005, students created short films for Verizon's Broadband branding campaign, "Richer. Deeper. Broader." Students are currently working with Heineken on a short film to appeal to the urban market, a comedic short for the new Premium Light beer, and a documentary for Heineken's Amsterjam music festival in August.