A L U M N I R E U N I O N W E E K E N D 2 0 0 6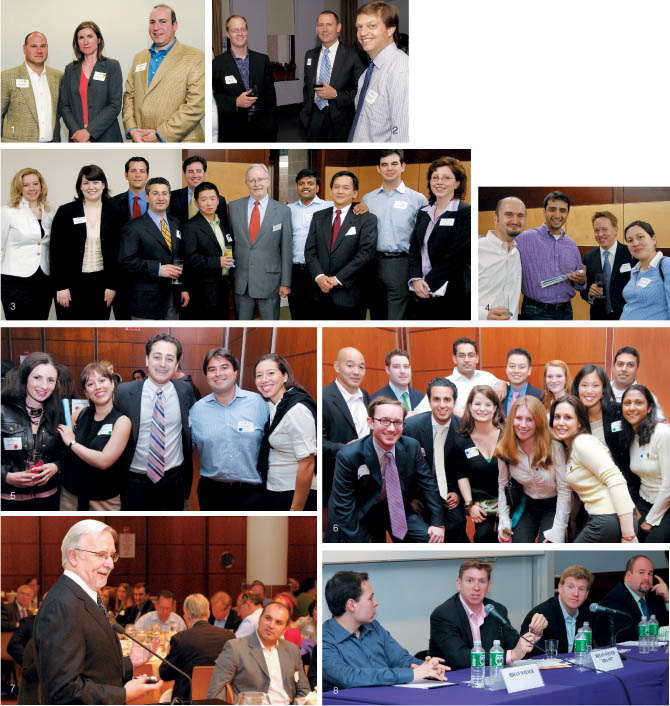 "SWAP" Careers with CCWP
Through its on- and off-line resources, the Career Center for Working Professionals (CCWP) provides Stern alumni with career development resources and expertise to prepare them to compete effectively for opportunities in a rapidly changing labor market and to connect them with employment opportunities that match their individual skills, interests, and experiences.
Alumni have exclusive access to a variety of career-related tools and resources through the Career Center in SWAP, the Stern Worldwide Alumni Platform, which is managed by the CCWP. The Career Center provides access to job postings, resume postings, CAP – the Career Advisory Program – and access to online career-related services like Vault.com. The Center also provides archives of past career-related workshops and tools, including "Creating a Career Transition Plan," "Networking and Informational Interviewing," sample cover letters and resumes, and salary/compensation websites.
The CCWP offers a wide range of non-virtual services – individual counseling, workshops, professional development seminars, networking events, and job postings – designed to assist alumni with career planning and job development at every stage of the search. The CCWP office is open during convenient evening and Saturday hours as well as remotely through streaming media, upon request.
To visit the Career Center, log on to SWAP on the Alumni Affairs website at www.stern.nyu.edu/Alumni. For more information on the CCWP, contact their office at (212) 998-0235.
"Fund"amentals: Students Past and Present Discuss Investment Funds
In April 2006, the Finance Management Committee of the NYU Stern Alumni Council and Professor Richard Levich, Director of the Michael Price Student Investment Fund (MPSIF), hosted an event to highlight the MPSIF, a family of funds managed directly by NYU Stern MBA students. The event included presentations by current MBA students managing four funds, followed by a networking reception with students and alumni. For more info on MPSIF, see the article on page 36.
Undergraduate Scholars Reunion: October 26, 2006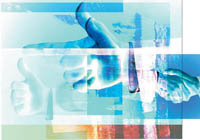 Each year, the Stern Scholars Program welcomes a group of 80 to 100 incoming freshmen, who are chosen based on their demonstrated academic excellence and leadership abilities. The Scholars Program offers these outstanding students a unique co-curricular program designed to enhance the Stern experience. Stern Scholars are exposed to an expansive program through a mixture of seminars, executive lectures, international travel, social activities, and community service projects.
On October 26, the NYU Stern Undergraduate College and the Office of Alumni Affairs will host a reunion reception for undergraduate alumni of the Scholars Program. The event will offer graduates an evening to reconnect with former classmates and fellow alumni.
"The Scholars Program was a huge part of my experience at Stern," said Benoy Thanjan (BS '97). "The programs and trips that my fellow Scholars and I experienced together created an extremely close bond among us. This Reunion is a wonderful opportunity to reconnect with my class and to meet fellow alumni of the Scholars Program."
To register for the Stern Scholars Reunion, please visit the events section of SWAP or contact Alumni Affairs at (212) 998-4040 or alumni@stern.nyu.edu.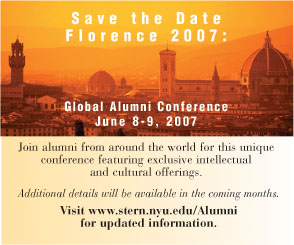 Catching Up With…the New Jersey Regional Group
Of the 59 regional alumni groups composing SternNet, the NYU Stern Global Alumni Network, New Jersey represents the largest alumni constituency. With more than 12,000 alumni living or working in the state, New Jersey accounts for about 17 percent of Stern's 70,000 alumni worldwide.
The NJ Regional Group has a rich 20-year history, hosting programs and events in the northern part of the state that have included faculty speakers, partnerships with other schools and associations, and a career networking forum.
In an effort to build and strengthen the alumni network and effectively address the needs of this alumni group, Alumni Affairs recently announced a new leadership structure for the NJ Regional Group. Daniel Ang (MBA '01) and Tracy Copple (BS '96) will serve as Co-chairs of the New Jersey group, leading 12 alumni volunteers who are serving as representatives of the various counties and regions.
"We see this change as a great opportunity to better reach the thousands of alumni in the state of New Jersey," explained Jeanne Marano, Executive Director of Alumni Affairs. "The new structure will yield positive results in terms of increased activities, and we hope to use the NJ Regional Group as one of our model regional groups moving forward."
The New Jersey group has several activities planned for the 2006-2007 academic year, including four School-sponsored events in the following counties: Morris / Union / Essex, Bergen / Passaic, Mercer / Middlesex / Somerset / Hunterdon, and Monmouth / Ocean. Additional programming will be planned by various counties and regions throughout the year. For updated information on regional programming, visit the online calendar at www.stern.nyu.edu/Alumni.
Regional Roundup
Tri-State
Stern alumni in Westchester/Fairfield gathered with other NYU alumni to hear a presentation on corporate governance by Professor Bruce Buchanan. Alumni in Albany and New Jersey attended an "NYU in Your Neighborhood" event with President John Sexton, while alumni in Connecticut heard Dr. Bob Kavesh's economic outlook.
United States
Deputy Dean Russell Winer visited Houston, Denver, and San Diego, where he met with alumni and gave presentations on marketing. In addition, alumni in Houston and San Diego, as well as Ft. Lauderdale and St. Pete Beach, Florida, Los Angeles, Boston, and San Francisco, attended "NYU in Your Neighborhood" receptions. Boston alumni also joined admitted students to hear Dean Thomas Cooley give an update on the State of the School, and San Francisco alumni joined admitted students to hear a presentation from Rebecca Zucker (BS '90) on creating a personal marketing plan. In Chicago, alumni heard Dr. Bob Kavesh speak on the economic and financial outlook. Philadelphia alumni and current students enjoyed a presentation on entrepreneurship by Professor Jeffrey Robinson.
International
In Shanghai and Rio de Janeiro, Brazil, alumni met with Executive MBA students on their Global Study Tour. Japan alumni joined students for the Japan Business Association (JBA) TREK. Alumni in London, Seoul, and Hong Kong met with Deputy Dean Russell Winer. Professor Ed Altman dined with alumni in Australia and Taiwan, and Professor Michael Pinedo dined with alumni in Amsterdam.