Fast Track to Success
By Marilyn Harris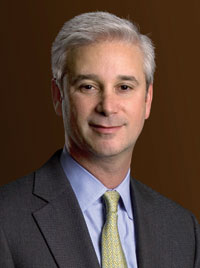 In 1987, barely out of college, Charles "Charlie" Scharf was the youngest professional employee at Commercial Credit Corp., the venerable, if down-at-the-heels Baltimore consumer finance company then run by Sandy Weill and Jamie Dimon. The first person the company had hired directly from college in years, Scharf was in fact still a senior at Johns Hopkins University when he started working there part-time, having sent his résumé to Dimon through family connections. The experience, Scharf recalled recently, was a little lonely. "I was younger than almost everybody else by 20 years," he said. Upon reflection, noted the now 44-year-old executive, it was the best possible situation for a tyro: "My colleagues were seasoned, and I got the benefit of their experience. That helped me mature in business faster." Six months into the job he was named Dimon's assistant and "included in every meeting, learning broadly about business and how decisions get made." His real-world education – and subsequent career – was well and truly launched.

Scharf's upward professional trajectory has never faltered. Relied upon by Dimon, he has mastered a sequence of jobs whose titles usually started with "chief." In 1995, he became CFO of Smith Barney, after serving in a number of senior finance roles at various Travelers Group companies, including Commercial Credit, Primerica, and Smith Barney. When Travelers merged with Citicorp in 1998 – at which point Scharf was CFO of Salomon Smith Barney – he was named CFO of Citi's global corporate and investment bank, which generated revenues of $21 billion in 1999. In 2000, he was CFO of Bank One, and in 2002, he led the bank's consumer banking business, helping rebuild the brand and banking staff and expanding the branch and ATM network.
Scharf became CEO of JPMorgan Chase's retail financial services upon its 2004 merger with Bank One. His operation – including Washington Mutual – comprises more than 5,000 bank branches and 13,000 ATMs, as well as relationships with more than 14,500 auto dealerships and 5,200 schools and universities.
Among his current challenges is the post-merger integration of Washington Mutual, acquired by JPMorgan Chase in September 2008, and, in this difficult economic period, it presents problems and tremendous opportunities. According to Scharf, "There was a lot of credit exposure there – $35 billion and maybe more in losses – but there is enough cushion that it should be okay." Last December, he and Dimon flew to Seattle with the bad news of 9,200 layoffs over the next year. "It was hard eliminating thousands of jobs, but you have to do the right thing for the other employees," he said. "I think people think we treated them fairly." The great opportunity of the merger, he pointed out, is to create a truly national franchise, leapfrogging into states where JPMorgan Chase had lacked a retail presence.
"In my experience, good business is all about stepping back, asking questions, and accumulating the expertise to make the best decisions, whether those are business decisions or people decisions."
Once the integration is complete, there is still the recession to get through. JPMorgan Chase has "done well so far on a comparative basis," said Scharf, "but there's a long way to go." Over the past two years, "there are a lot of things we intentionally did not do, such as CDOs, option ARMs, etc., and that's left us in relatively better shape than some of our competitors." He explained that Dimon's philosophy of running a financial company is to plan as if the worst will happen and create what he calls a "fortress" balance sheet. When assuming risk, "we ask, 'If we're wrong, will we be okay?'" One of the keys to emerging whole from the current economic crisis is to "stay out of trouble and avoid the land mines," he said. "We will get through this cycle, though there will be fewer banks. People shouldn't bet against the financial system in this country."
As much as Scharf has been mentored by the leading lights of his industry, he has developed a philosophy of his own. In part, that was shaped by his Executive MBA from Stern, which he completed in 1991 and, he said, helped put his work experience into perspective. "In my experience," he reflected, "good business is all about stepping back, asking questions, and accumulating the expertise to make the best decisions, whether those are business decisions or people decisions. Jamie says there's a book on everyone and you just need to read it. I would add that there's always an answer waiting to be found. You just need to do the work and seek it out."

When he's not working or contributing his expertise to the boards of the Lyric Opera of Chicago, the New York City Opera, and Guiding Eyes for the Blind, Scharf prefers spending time at home in Westchester, New York, with his wife, Amy, and two daughters, who are active in plays and musicals. Tennis is his sport, and rock and blues guitar his passion – that and woodworking, which he said he finds "very soothing." He's skilled enough to have made and installed the raised paneling and bookshelves in a home library, and his next project is a desk. With the mountain of professional responsibilities facing him in the current bruising environment, finding the time to escape to his woodshop might be the toughest challenge of all.
Gossip Girl's Governing Guy
By Jenny Owen
The last few years have accelerated to fever pitch for Les Morgenstein (MBA '97). As president of Alloy Entertainment, he leads the entertainment brain trust behind a rapidly growing roster of hot television shows and films, and a slew of the most popular books for adolescent girls. In 2008 alone, the company debuted the second season of "Gossip Girl," its hit television teen drama, that recently got its own spinoff, to some of the CW Network's highest ratings ever; released the sequel to teen girl flick "The Sisterhood of the Traveling Pants" and two other movies it produced; and launched a one-hour comedy "Privileged" on the CW Network.
Alloy Entertainment, a subsidiary of Alloy Media + Marketing, doesn't just produce "Gossip Girl," it also developed the eponymous best-selling novel series by Cecily von Ziegesar that inspired the program. Revolving around the lives of prep-school socialites growing up on New York City's Upper East Side, "Gossip Girl" was designated the "Best Show Ever" in April 2008 by NY Magazine and the Teen Choice TV Show Drama of 2008.
Gossip Girl has been a successful model for Alloy Entertainment. The company's largest business is books, which include the series The A-List, The Clique, The Luxe, and Pretty Little Liars, and often the company's TV and film projects are based on these literary properties. This strategy has helped the company make inroads into Hollywood, because its movies or TV shows are based on books that already have followings, and, therefore, potential "pre-sold" audiences. "The Gossip Girl books had sold five million copies by the time the show premiered," said Morgenstein.
At one point last summer, Alloy Entertainment had nine books on The New York Times children's best-seller list. The company is a book packager that crafts proposals for publishers and creates plotlines and characters before passing them to a writer or group of writers – in much the same way that dramas and sitcoms are written for TV. A 2008 Forbes article reported that "a single Alloy book can generate multiple six-figure revenue streams: the initial book deal, plus a fee for selling the television rights, a purchase price and a producer's fee for the pilot, a per-episode rights fee and producer's fee, and a cut of the overall profits."
"The secret, if there is one, is in the initial creative process," Morgenstein explained. "And as managers, we're very diligent about what we do and what makes something a commercial concept that not only will have the potential to be a hit, but also have the potential to be a hit with multiple titles that then transitions to film or television or spin-offs with other opportunities."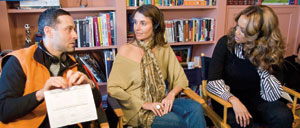 Morgenstein began working in publishing right after graduating from Sarah Lawrence College. He worked for a company that packaged the Sweet Valley High teen books popular in the 1980s, while at the same time attended The City College of New York for a master's degree in English and creative writing. Soon after earning an MBA from NYU Stern, he bought the company he worked for and renamed it 17th Street Productions. "Around this time, which was the mid- to late-'90s, there was a demographic boom. Various pockets of teen media were really taking off: the WB was strong with 'Dawson's [Creek]' and 'Buffy [the Vampire Slayer],' Teen People had launched really well, and boy bands like the Backstreet Boys were huge, but publishing was not," said Morgenstein. "So we identified some big shifts we wanted to make in that business – primarily we wanted to become a company that was developing content. By the latter part of the '90s, we formed a relationship with Alloy to promote our books on their website and in their catalogues and in outgoing orders, and we, in turn, put their name on our books. Soon after, Alloy went public and, recognizing our similar goals, then acquired 17th Street Productions."
With a background in both business and developing creative content, Morgenstein is appropriately positioned to lead Alloy Entertainment. "I had a very liberal arts background and discovered early on in my career that I was very entrepreneurial and wanted to run my own business, but I didn't know anything about business," Morgenstein explained. "Much of that you learn on the fly, but fundamentals like accounting and finance, you can't. That's really why I went to Stern – and it's been integral to what I do."
Morgenstein's business competence has proven especially useful in helping Alloy Entertainment weather the current economic turmoil. "The book business is down. Retail traffic is way down," he explained. "It's impacting royalties we're earning on our best sellers, and it's impacting what publishers are willing to pay for that next title as they look at their businesses. And the advertising climate today compared to six months ago is very different. It's also harder to get a commitment from the TV networks.
"Nevertheless, long-term, we're in a very good position because we create commercial intellectual property. Whatever changes are made in the entertainment business, however distribution evolves, it's going to need great content," he asserted.
Developing great content requires a strong creative team, which Morgenstein noted, is best found in New York City. His company's New York location "has definitely impacted the type of talent we're able to hire," he said. "We thrive on the creativity of our editorial staff and New York attracts a very high caliber of young executives. I don't think we would have experienced the same success had we been in an office park in New Jersey."
There's no dearth of content in Alloy Entertainment's slate of offerings. It has about a dozen TV projects in development with major networks, as well as a number of kids' movies and romantic comedies under way with top film studios. It's also doing new-media projects like Web-isodes. "We're putting together a business model based on that," said Morgenstein. "So there will be some business model shifts, but at the heart of it, we'll continue to do what we do." If that's any indication, Morgenstein's level of activity may be at fever pitch for a good long while.