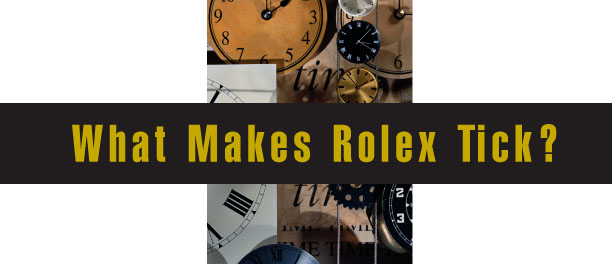 By David Liebeskind

he market for luxury goods is booming – locally and globally. In the U.S. alone, 2.2 million individuals have liquid portfolios of over $1 million. And tens of millions of less well-heeled consumers routinely splurge on high-end products. But the market relies more on psychology than sheer consumer utility. In order for luxury goods makers to crack the market and maintain a hold on finicky consumers, they have to convince people to pay far more for something – a pair of shoes, a bottle of wine, or a watch – than they need to. After all, why would otherwise economically rational people spend thousands on a watch when one that costs only $10 tells time just as accurately?
Rolex, the Swiss watch company that will celebrate its 100th anniversary next year, knows the answer. Over the past century, Rolex has built and defended a strong position in the high-end watch market. And it has remained independent even as many competitors have sought the shelter of conglomerates. Today, Rolex is the largest single luxury watch brand, with revenues of about $3 billion and annual production of between 650,000 and 800,000 watches. The secret to its success: a strategy that eschewed fashion and emphasized performance, brand purity, and continuity.
"Today, Rolex is the largest single luxury watch brand, with revenues of about $3 billion and annual production of between 650,000 and 800,000 watches."
By the standards of the time-keeping industry, Rolex is a relative newcomer. The pocket watch first emerged in the early 1600s. In the 18th century, innovators incorporated jewels into the design to reduce the friction of turning points and thus improve accuracy and reduce wear. According to Frank Edwards' Wristwatches: A Connoisseur's Guide, Berguet in 1810 made a watch for the Queen of Naples to be worn on the wrist. At London's 1861 Crystal Palace Exhibition, Patek Philippe featured a watch with a diameter of only 8.46 millimeters.
In the 19th century, England, Germany, and France became early centers for wristwatch manufacture. The United States also played a vital role in the evolution of the industry. The Waterbury Clock Co., founded in 1857, brought mass production to the industry, and drove the price of pocket watches down sharply. Switzerland, however, was the source of the highest quality watches. French Huguenots, who settled in Switzerland in the late 16th century, formed the nucleus of the Swiss industry. The Swiss concentrated their efforts on watches rather than clocks. And by the early 20th century, the label "Swiss Made" began to indicate quality, and Swiss firms began to dominate the middle and high-end of the market.
High Performance
The company that would eventually become Rolex was founded in London in 1905 by a 24-year old Bavarian who was orphaned at age 12. Hans Wilsdorf founded the company with his brother-in-law, William Davis, and coined the brand name Rolex. He felt the name sounded like the noise a watch made when it was being wound. It was also easily pronounceable in different languages and short enough to fit on the face of his watches. Wilsdorf ultimately moved his company to Geneva in 1919.
The period between the two World Wars was a difficult one for Swiss watchmakers, as they had to contend with successive economic and political crises. But in this period, Rolex began to build its reputation for performance. In 1914, a Rolex watch was awarded a Class A precision certificate from the British Kew Observatory, an honor previously reserved exclusively for marine chronometers. In 1926, Wilsdorf developed and patented the first truly water-resistant watch, the Oyster. The watch was strapped to the wrist of Mercedes Gleitze as she made her pioneering 15-hour swim across the English Channel. Rolex capitalized on the event by using it in advertisements, and by building displays in jewelers' windows that featured a watch submerged in a small tank of water.
By World War II, the Rolex brand had gained such prestige that British Royal Air Force pilots bought them to replace the inferior watches that were issued to them. Pilots captured as prisoners of war frequently had their Rolexes confiscated, but when pilots wrote to the company describing their experiences, Rolex replaced the watches free of charge. American servicemen learned of Rolex while stationed in Europe, thus helping to open the lucrative U.S. market to the company.
In the post-war era, as the company set its sights on expansion, Rolex continued to build its high-performance reputation. In 1945, Rolex introduced the Datejust model, the first chronometer with an automatic date changing mechanism. Eight years later came the Submariner, which was both water-resistant and pressure-resistant to a depth of 330 feet. And Rolex continued to find even more dramatic opportunities to demonstrate its unique performance characteristics. Sir Edmund Hillary wore a Rolex when he climbed Mt. Everest in 1953. The watch became the key instrument to measure time at sporting events.
Continuity Amid Change
Before his death in 1960, Hans Wilsdorf placed ownership of Rolex in the hands of the Wilsdorf Foundation, which would assure the company's independence. In 1962, Rolex's board appointed 41-year-old André Heiniger, who had worked for Wilsdorf for 12 years, as managing director. In 1992, Patrick Heiniger, a 32-year-old lawyer, who had served the company for six years as marketing director, succeeded his father. André stayed on as chairman until 1997, when he became chairman emeritus. In Rolex history, there have been only three managing directors.
In the post-war years, watches became both cheaper and more reliable. In 1950, a Norwegian born engineer, Joakim Lehmkuhl devised a more dependable inexpensive watch by making significant improvements to pin-lever technology. It was marketed under the brand name Timex. In 1968, prototype quartz crystal watches were introduced. These time pieces were extremely accurate and eventually would be inexpensive to produce. The new quartz technology allowed for both analog and digital readouts, and opened the door to new functions like calculators. By the end of the 1970s, about half of the watches sold worldwide were based on quartz technology, and Hong Kong had emerged as a major center for watch production.
Rolex was reluctant to join the quartz wave, but did come out with a limited number of models. In spite of threatening new technologies, a proliferation of low-cost producers in the Far East, and economic ups and downs, most of the luxury brands survived in one way or another. But Rolex thrived in the face of disruptive technologies. In an era when accuracy and dependability were no longer the exclusive province of premium products, Rolex developed a series of attitudes toward defending and building its position in the high-end market.
Even as watches became mass-produced commodities, Rolex continued to emphasize craftsmanship and quality. It used materials such as gold, platinum, and jewels. And it continually improved its movements and added new functions to its watches: the ability to tell the date, the day of the week, and the time in different time zones. As a result of this greater complexity, Rolex's watches were made with a greater sense of old-fashioned craft. An inexpensive quartz watch produced with a great deal of automation has between 50 and 100 parts; a Rolex Oyster chronometer has 220 parts.
Maintaining Demand
Rolex also maintained its brand image by limiting production, even as demand rose. For luxury goods, scarcity in the marketplace can influence value, spur demand, and contribute to collectibility and long-term appreciation. And a company that can pitch its product as an investment can frequently charge a premium. Finely-made luxury watches tend to appreciate in value over time. The Complete Price Guide to Watches (2004 edition) lists the value of a 1936 Patek Philippe Calatrava in 18-karat gold at $700,000. Rolex watches have held their value well, too. Price guides for collectors indicate that almost all older Rolex models are valued above their initial selling price. Most collectible Rolexes sell in a range of between $1,500 and $20,000.
Rolex has also taken pains to ensure that its watches are sold only in appropriate venues. The crystal prism that indicates a store is an "Official Rolex Dealer" is highly prized. Rolex looks for dealers with high-end images, relatively large stores, and attractive locations that can provide outstanding service – such as Tourneau. At one point, Rolex got into a dispute with Tiffany because the venerable retailer was imprinting its name on the Rolex watches it was selling. When Tiffany refused to stop, Rolex dropped Tiffany as an official jeweler. In the 1990s, as part of an effort to control sales of their goods in the so-called gray market, Rolex cancelled agreements with about 100 dealers.
Rolex has also focused on maintaining the purity of its brand. Many luxury-goods makers have used their original product as a springboard. Cartier and Mont Blanc, for example, have bet that the equity of their brand built on a single product will pull sales for a variety of luxury goods. And some brands have licensed their brand to other manufacturers, thus ceding some control over the products appearing under their name. But Rolex makes only watches, and it has never licensed its name.
What's more, many watch brands have responded to competition by merging into conglomerates over the last few decades. LVMH Moët Hennessy Louis Vuitton, the world's largest luxury goods company, with annual sales of more than $15 billion, includes venerable watch brands such as Tag Heuer, Zenith, and Dior Watches. Compagnie Financière Richemont, the world's third largest luxury goods maker, owns watch brands such as Cartier, Baume & Mercier, Piaget, Jaeger-LeCoultre, and Officine Panerai. Well-known brands Movado, Patek Philippe, and Breitling remain essentially independent. By placing control of the company in the hands of a foundation, Wilsdorf guaranteed that Rolex would have the means to withstand the pressure to affiliate with a larger company that has a range of interests and markets.
Rolex also maintains its brand purity by combating counterfeiters. Today, many copies are so good that only an expert can tell the difference. And while connoisseurs will certainly note the difference between a $5,000 Rolex and a $25 knock-off, the existence of large number of counterfeits inevitably affects demand at some level. Rolex likely spends more money policing fakes than any other brand.
In the future Rolex will no doubt face stiffer competition as innovative entrepreneurs search for new ways to attack its markets. And the large luxury goods conglomerates enjoy certain advantages over an independent firm like Rolex. They have restructured operations to take advantage of size and significantly reduce cost, enjoy synergies in advertising and marketing, and are more willing to engage in open discussions in trade associations to learn from the competition. The conglomerates may also be more willing to source from Asia, where labor costs are considerably lower than Switzerland.
But as it approaches its 100th anniversary, Rolex is sticking to its core strategy of independence, continuity, and brand purity. The company's attitude has allowed it not just to survive decades of technological and economic upheavals, but to thrive amid them. Even in today's massive, global luxury-goods market, an independent company that clearly defines its market niche and relentlessly sticks to its strategy can rise to the top.
David Liebeskind is an adjunct professor of management at NYU Stern.