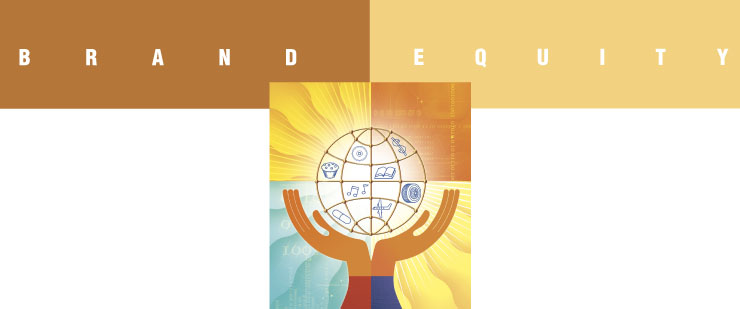 by Daniel Gross

here are comparatively few global brands, words that in a syllable or two can evoke a symbol, a product, or a feeling for billions of consumers. One of those is Visa. Plastic may have symbolized something artificial and even boring to a prior generation. (Remember the scene from The Graduate in which Mr. Robinson advises the young Benjamin to go into plastics? He recoiled in horror.) But today, when money is as likely to change hands in the form of bits and bytes as it is in bills and coins, plastic means real business, and growth. And Visa, whose logo is recognizable the world over (it helps that it's seen on stickers on pretty much every retail outlet from Bangkok to Bangor, Maine) has played a significant role in this evolution. "We want to displace cash and checks," declared Visa USA CEO Carl Pascarella (p. 4). "There are two sacrosanct things at Visa – our systems and our brand."
MTV is another one of those brands that functions as a sort of global shorthand. And even in a universe of hundreds of channels, Tom Freston, co-president and co-chief operating officer of Viacom (p. 2), sees opportunities. "There are 28 music channels in the U.K., if you can imagine that, and we have about 11 of them," said the Stern alumnus, who had been with MTV since its inception. "What we've done is basically do brand extensions or bring in new brands."
Brands can get hurt by a range of external factors – vigorous competitors and technological breakthroughs, malevolent vandals or unfortunate accidents. But no blow is so damaging as a self-inflicted one. Exhibit A: Martha Stewart. The domestic doyenne hurt her reputation – and that of her eponymous company – by getting caught up in an insider-trading investigation. Convicted in March of lying to investigators, both Stewart and her company face an uncertain future. But it didn't have to be that way, says Peter N. Golder, in "A Very Bad Thing" (p. 14). By seeking to become more than the sum of Martha's many parts, the company could have "developed an impersonal brand that was synonymous with a certain lifestyle – stylish, aspirational, and up-scale." Instead, the name is synonymous with an altogether different lifestyle: prison inmate. And, no, there's no truth to the matter that her next magazine will be entitled, This Old Big House.
A felony conviction stands as a black mark on any executive's resume. But you don't have to be a criminal to get branded negatively. Serving as an executive or a director at a failed public company can stigmatize a mature professional for life. But not all are branded equally, say Batia M. Wiesenfeld, Kurt Wurthmann, and Donald C. Hambrick in "The Scarlet F" (p. 18). The comeuppance bosses suffer after being involved in business debacles is a function of many factors – ranging from the severity of the mishap to the number of friends and connections an executive possesses. "The greater the social capital of an elite associated with a failed firm, the less the stigmatization he or she will experience," they conclude.
or investors, it would be great to know which executives are going to fail and be stigmatized in advance. It would have been great to know that Enron's top brass would be indicted. But how are shareholders to know? Analysts haven't yet developed stock-picking tools that screen for possible fiascos. However, David Yermack has identified one aspect of CEO behavior that points to potential underperformance of their stocks. In his article, "Flights of Fancy" (p. 30), Yermack examined the frequent flying habits of CEOs over a 10-year period. He found that "shareholders react negatively to the news that CEOs are using corporate jets." And with good reason, it turns out. "The shares of companies whose CEOs use private aircraft underperform the market by more than 400 basis points a year."
One of the sectors where brands matter most – where people pay the highest premium for goods that have a positive image in the consumers' mind – is in luxury goods. What makes one pair of shoes worth $500 while another, with many of the same components, costs $39.99? Brands help explain a lot of the difference. In "What Makes Rolex Tick?" (p. 24), David Liebeskind tells the story of how one Swiss watchmaker manages to hold onto its position with the regularity of, well, a finely made timepiece. The "largest single luxury watch brand" has pursued a strategy of continuity, limiting production, and zealously keeping watch not just on how the watches are made, but on how they are sold. "The crystal prism that indicates a store is an 'Official Rolex Dealer' is highly prized," Liebeskind notes.

olex has been careful not to dilute its brand by branching out into unrelated areas. (You won't find Rolex shoes and socks in Bloomingdale's.) And for many brands, a singular focus on a single product or group of products is the key to success. But Johnson & Johnson – which houses as many great brands as the Yankees' dugout houses all-stars – has followed a different tack. Over the years, J&J has built up three broad lines of business: consumer products, pharmaceuticals, and medical devices. William Weldon, the CEO of Johnson & Johnson, argues that the diversification provides ballast for a giant ship. "We see real value in being broadly based," said Weldon, who has spent his entire 30-year career at J&J. "Having a mix of businesses provides some stability." (p. 6).
One of the components of a brand, especially for retailers, is service. After all, why spend your money in a place that isn't going to treat you right, especially when there are so many options – online and offline. But there's a trick. There are different ways retailers can offer help to shoppers, and the relative effectiveness of "different" has to do with psychology, expectations, and feelings. Eric A. Greenleaf, Vicki G. Morwitz, and Russell S. Winer investigated the varieties of help online and offline and conclude which are most effective in their article, "Helping Hands" (p. 42). Their conclusion: Customers don't always want to hear the words: "Can I Help You?" Like Greta Garbo, some prefer to be left alone. And online and bricks-and-mortar shopping are two different worlds. "Since web shopping involves consumer experiences that are very different from store shopping, it is not clear that help strategies that work well in face-to-face retail encounters will work well on the web."
or most brands, success means avoiding controversy. Nobody wishes to offend a potential customer, after all. But two of the biggest brand names in financial services – Fannie Mae and Freddie Mac – are quite controversial. The two companies, which occupy the not-so-neutral ground between the government and private sector, have grown into massive forces in the housing markets – and in the House and Senate in Washington. But they have faced questions about their accounting, influence, and relationship to the government. Lawrence J. White, in "The Trouble With Fannie and Freddie" (p. 36), thinks some reform is necessary, and that the companies would thrive as purely private entities. "Given their substantial brand names and their impressive collection of human and intellectual capital, they would likely continue to innovate and prosper," he writes.
One of the great things about a magazine is that it offers readers the opportunity to dip into the content at their own leisure, and on their own terms. And this issue of Sternbusiness is full of unconventional wisdom about the use and misuse of brands. All readers will find plenty to sample.
Daniel Gross is editor of Sternbusiness.