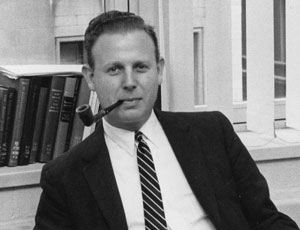 Hear Dr. Bob recite his poem
"The World Belongs to Optimists."
Dear friend,
For five decades, Dr. Robert Kavesh (BS '49), beloved professor emeritus of economics and finance, has inspired business students at New York University.
Bob Kavesh is widely published and respected for his research on financial forecasting and economic policy issues, which he has imparted to more than 15,000 students during his tenure at NYU.
NYU Stern has begun a campaign to establish the Robert Kavesh Professorship in Economics to honor his distinguished career and contributions to higher education.
We have agreed to serve as the Honorary Co-chairs of this campaign not only because Bob is a close personal friend, but also because the success of this effort will recognize the value of fine and dedicated professors.
We hope you will participate in the School's efforts to honor Dr. Bob.
Dr. Alan Greenspan
BS '48, MA '50,
PhD '77, Hon. '05
Dr. Henry Kaufman
PhD '58
Paul A. Volcker
Hon. '83