TheaterMania's Headliner
by Jenny Owen
At TheaterMania.com, there is an amazing vitality of the dramatic arts showcasing across the US. Broadway shows are just the appetizer in the feast of entertainment that awaits – summer festivals, local playhouses, and opera abound, and TheaterMania.com has gathered it all in one website. The site provides listings, reviews, ticket information, and more for the majority of the shows in 40 markets around the country. No surprise that the company, whose ad revenue grew 45 percent in the past (recessionary!) year, has experienced steady growth annually since its founding a decade ago. The leading role of CEO at TheaterMania is being ably played by Gretchen Shugart (BS '82), who joined the cast about a year after its debut.
Shugart was taken with the performing arts early on. Raised in a family where the arts ranked high – her mother is a concert pianist – Shugart moved to New York City at the age of 18 to study the violin. Instead, she ended up pursuing a bachelor's degree in management and economics at NYU Stern. "I didn't really want to be a violinist, I just had an opportunity to come to New York and study it," explained Shugart. "I love New York, and I knew I was never going to make a living here playing the violin – there are too many people who are better. But I always enjoyed business."
Crediting her Stern education with "setting me up for everything I've done since," Shugart finished her degree in about two and a half years. After graduating, she spent 18 years in corporate finance positions at Manufacturers Hanover Trust Company and Chase Bank (both now known as JPMorgan Chase), Bank of Montreal, and Communications Equity Associates.
Shugart became acquainted with TheaterMania when the firm she had founded, eMediaCapital LLC, was brought on to provide investment banking advisory services. "TheaterMania's founders came to me about six months after they had raised money during the dot-com boom, and the money was starting to run out because they were spending very fast to get scale. There was no revenue yet, and, at the time, capital was drying up," Shugart explained. "I became very involved in the company, trying to keep it alive, and the natural progression was for me to become CEO." Working with the original investors, and bringing in new ones, the company was able to raise more money, structured so that it was drawn down only as certain financial targets were met. Within two years, the company became cash-flow-positive.
In the fragmented markets it serves, TheaterMania found its niche by serving as the portal for smaller productions to reach a mass consumer audience efficiently and inexpensively. Around 700,000 consumers visit the site each month. While most people think of theater just in terms of Broadway, TheaterMania saw the opportunity to focus on the smaller shows and theater companies, explained Shugart, "where the hundreds and hundreds of not-for-profit and small 99-seat houses didn't have anyone paying attention to them and didn't have a way to market their productions." The company also works with Broadway and large scale productions at sophisticated venues like Radio City, Lincoln Center, the Kennedy Center in Washington, DC, and A.R.T. in Boston. "But we've never lost sight of the little guy," assured Shugart.
TheaterMania is partly supported by ad revenue, not only from the performing arts but from unrelated advertisers who like its demographic of highly educated, affluent, mature females. The company sells advertising on its website and on its e-mail newsletters, which includes more than 600,000 subscribers who receive theater information and special discount offers. Several years after launching TheaterMania, the company began developing a proprietary web-based ticketing system, OvationTix, which is used by venues across the nation, including NYU's Skirball Center. The revenue for OvationTix derives from licensing and ticket fees.
While TheaterMania.com covers major US markets, London, and Toronto, its home base of New York City – headquarters are near the theater district – is its prime market, because the city has the largest performing arts community. Shugart noted that being in New York offers many advantages, such as a sophisticated pool of employees who love working in the arts and face-to-face opportunities with clients, who, if they aren't located in New York, visit often because of its significant industry presence. Shugart said she views her job as "being the conductor, the orchestrator, the facilitator: We have very strong managers in the company. A lot of times, I'm just reinforcing what the managers want to do, but I have to tie together editorial, technology, sales, customer service, finance, and marketing, and that requires that I facilitate a lot of interdepartmental coordination."
In the decade her company has been in business, Shugart said, the theater business has evolved. "There is a lot more collaboration happening – theater companies are getting together and co-producing so that they can share the risk and the expense," she pointed out. "Markets share shows back and forth more. Consumers have realized that they should shop around before getting a ticket. And there is a lot more interactivity, trying to make productions more fun for the audience and getting them involved, like with 'Hair' and 'Fuerzabruta'." For its part, TheaterMania has recently launched a classifieds section for the arts industry and is developing new markets in English-speaking cities across the world.
Shugart also plays on a more intimate stage, as wife and mother. She and her husband and teenage daughter and son make their home in Westchester County, New York. A classical music buff, she also enjoys taking her family on the road for vacations, which this summer included London and Barcelona. "I'm proud that I've been able to sustain my career for nearly 30 years while also having a family and raising two well-adjusted kids," she said. For Shugart, that's the role of a lifetime.
Going the Distance
by Rika Nazem
"Career progression is a combination of two factors," explained Alan T. Ennis (MBA '02), "ability and opportunity. I believe that my experience, management style, and ability have positioned me well to take advantage of the opportunities that have presented themselves to me." The latest opportunity for Ennis, as of May 2009: president and CEO of Revlon, Inc., the global cosmetics and beauty care company that includes well-known products such as Revlon Colorstay lipstick, Revlon Age Defying makeup, the Almay line of cosmetics, ColorSilk haircolor, and Mitchum antiperspirant/deodorant.
Leading up to his role as head of the $1.37 billion, NYSE-listed company, Ennis was the company's numbers whiz. He held various positions in finance, including executive vice president and CFO, and led the international business, which, he said, "broadened my knowledge of the global cosmetics landscape and gave me direct accountability to drive the international organization to be more efficient and profitable." In 2008, Ennis was named to Treasury and Risk magazine's "Forty under Forty" list, which cited him as having "leapfrogged" up the executive ranks of the company. Ennis described his formula for success: "I focus on results, clear accountability, open communication, fact-based discussions, and timely, disciplined decision-making." He also credits his Executive MBA experience for framing his strategic thinking and approach to leadership. "My Stern education equipped me with additional tools to enable me to take the next career step. My approach is not unique, but I believe that persistent and clear-minded application of that approach creates sustained, positive, forward progress," he noted.
His approach has proved itself in results. With Revlon's executive leadership team, Ennis devised a business strategy for the company in 2006 that included building and leveraging Revlon's brands, improving the execution of the plans, enabling and developing the company's human capital, strengthening the international business, and improving the operating profit margins, cash flow, and capital structure. "The successful execution of this strategy has led to significantly improved profitability, reduced debt, stabilized market share around the world, and, in 2008, the generation of positive free cash flow and net income," he said.
But with a tough economic market, Ennis also recognizes the need for a balanced perspective on the long-term growth of the brand. "Our strategy is long-term in nature and remains appropriate for the current environment. We're managing our resources carefully and remain aware of the economic and competitive landscape that exists," he explained. "The company has incredible talent and capabilities, broad geographic reach, strong global brands, including Revlon, which is one of the most recognized brands in the world. We continue to take actions to enable the company to become a stronger organization while staying true to our vision of providing glamour, excitement, and innovation to consumers through high-quality products at affordable prices."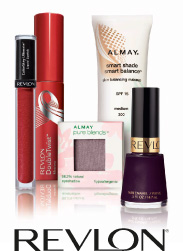 The Revlon brand is truly global, with a presence in more than 100 countries around the world. "Our key markets around the world include the US, Canada, Australia, South Africa, and the UK. The marketing approach is consistent country to country: a keen focus on innovative, high-quality, consumer-preferred products; effective consumer brand communication; appropriate levels of advertising and promotion; and superb execution with our retail partners. The Revlon brand has a 75-year heritage as the global, modern glamour color authority in color cosmetics," Ennis said.
In addition to its purely business concerns, Revlon has a long heritage that recognizes the importance of philanthropy. The Entertainment Industry Foundation (EIF) Revlon Run/Walk for Women is one such well-known effort. Launched in 1993 the EIF Run/Walk is a bicoastal event that, each year, draws huge crowds – which have included student members of the Stern Women in Business MBA club – and raises more than $10 million annually in support of women's health initiatives and the fight against women's cancers. Proceeds from past EIF Revlon Run/Walks have funded cutting-edge research, contributing to the development of the breakthrough gene treatment Herceptin, as well as other targeted therapies, bringing new and innovative treatment approaches to women's cancers worldwide.
In his free time, Ennis enjoys running. He highlighted that, while at Stern in 2001, "I trained for and ran the New York City Marathon with a few MBA classmates, including Noel Furniss (MBA '02) and Mike Bergner (MBA '02). It was a memorable event, coming so soon after the events of September 11, 2001 – I can clearly recall Mayor Rudy Giuliani's comments at the start of the race, where he said 'Tomorrow, New York is going to be here. And we're going to rebuild, and we're going to be stronger than we were before... I want the people of New York to be an example to the rest of the country, and the rest of the world, that terrorism can't stop us.' In 2002, my wife, Michelle, and I ran the NYC marathon together with my brother, Michael, from Ireland." He met his goal of breaking four hours for a marathon in the 2003 Chicago race with a time of 3 hours and 51 minutes. He and Michelle like to play golf and tennis and swim, as well as spend time with their three children, Bridget, Timothy, and Daniel.