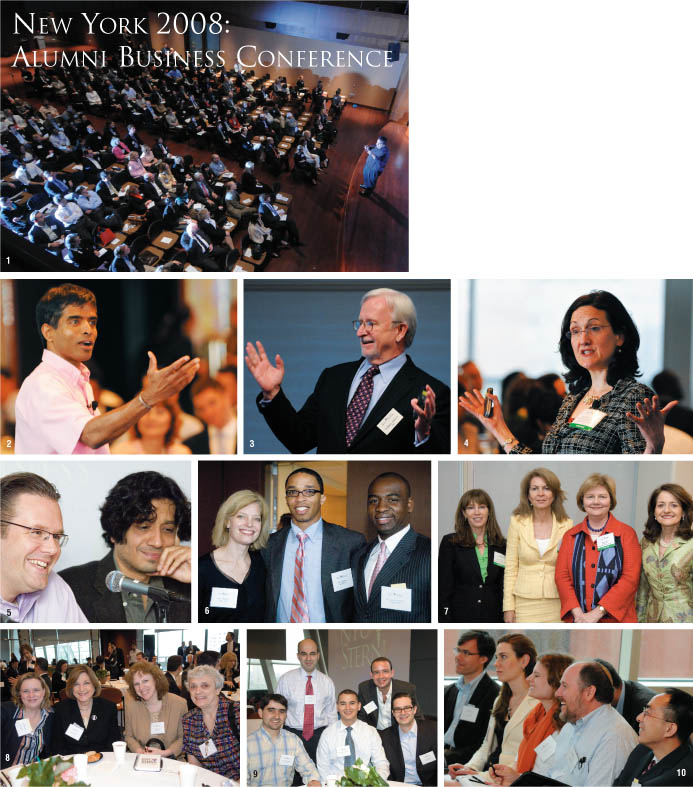 NYU Stern Hosts First New York-Based Alumni Business Conference
More than 300 alumni, students, faculty, and friends from around the world reunited in May for New York 2008: Alumni Business Conference, Stern's first campus-based conference. At the Conference, industry leaders and scholars provided business forecasts and discussed current market issues on financial risk, investing, entrepreneurship, marketing, digital media, and social networking (see A Look to the Future).
We thank all of you who were able to attend. For webcasts of the panels, photo galleries, and other information from the Conference, visit www.stern.nyu.edu/alumni/newyork2008.
Catching Up With... the NYU Stern Barcelona 2009 Host Committee
The Barcelona 2009 Global Alumni Conference Host Committee is delighted to welcome all alumni to Spain next June for Barcelona 2009: Global Alumni Conference. As Host Committee members, these alumni are serving as ambassadors for the School, actively engaging alumni in support of the Conference. In addition, the Host Committee is advising and assisting the administration on topics for the Conference program, helping to obtain high-level speakers, and strengthening the community between alumni and the School.
Juan Antonio Samaranch Salisachs, Jr. (MBA '86), Founding Partner and Managing Director of GBS Finanzas, S.A. and Regional Leader for the NYU Stern Alumni in Spain Regional Group, is working closely with the other members of the Host Committee in the planning of the Conference. Members of the Committee also include Claudio Boada Pallerés (NYU Stern Parent '09), Chairman, Circulo de Empresarios; Fabio Canè (MBA '90), Head of Investment Banking, Intesasanpaolo, Milan; José M. Concejo Diez (MBA '97) of Allianz, Madrid; and Maria Pierdicchi (MBA '88), Managing Director, Standard & Poor's, Milan.
Barcelona 2009: Global Alumni Conference, the School's biennial international symposium, was developed by the Alumni Council, in conjunction with the Office of Alumni Relations & Development, to offer exclusive educational, cultural, and social opportunities to the global alumni community. The Conference will feature industry leaders and scholars discussing a range of current and future market issues.
To learn more about the Global Alumni Conference Host Committee, regional programs, or other ways to get involved with the School, visit the website at www.stern.nyu.edu/alumni. For more information about Barcelona 2009: Global Alumni Conference, visit www.stern.nyu.edu/barcelona2009.
The Classes of 1998 and 2003 Celebrate their Reunions
Thousands of NYU alumni gathered on Washington Square in May for NYU Alumni Day and the NYU Stern five- and 10-year reunion receptions to reconnect and network with former classmates over cocktails and hors d'oeuvres. The Reunion Committees celebrated the commitment of those alumni who fulfilled their Legacy pledges and the members of the class that contributed financially to Stern over the past five years. Overall, more than 2,000 alumni and friends traveled from around the country and the world to join in the annual two-day celebration, making this year's celebration the biggest yet.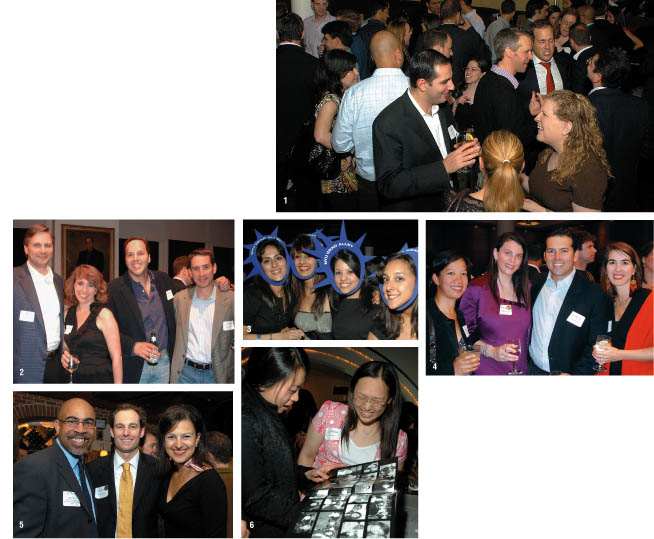 LinkedIn Provides Alumni with More Opportunities to Reconnect
There is a new way to stay connected to your Stern friends and to the School. We are now working in partnership with LinkedIn, an online professional networking site, to help you identify and leverage professional opportunities with members of the Stern alumni community. The NYU Stern Alumni LinkedIn Network, which currently has more than 1,700 alumni subscribed, allows you to network and post or view online job listings with other Stern alumni.
Along with SWAP, the Stern online alumni community, LinkedIn is a great way to stay connected to your fellow Stern graduates. To join, visit LinkedIn at www.linkedin.com and search for the NYU Stern group.
Note that the NYU Stern LinkedIn group operates independently of SWAP. The two systems do not transfer data or share information. To keep your contact information up-to-date with the School, activate your e-mail forwarding for life, access exclusive career resources, and learn about upcoming alumni events, please visit SWAP at alumnionline.stern.nyu.edu.
Take advantage of the opportunity to expand your network and enhance your career — join the NYU Stern Alumni LinkedIn Network today.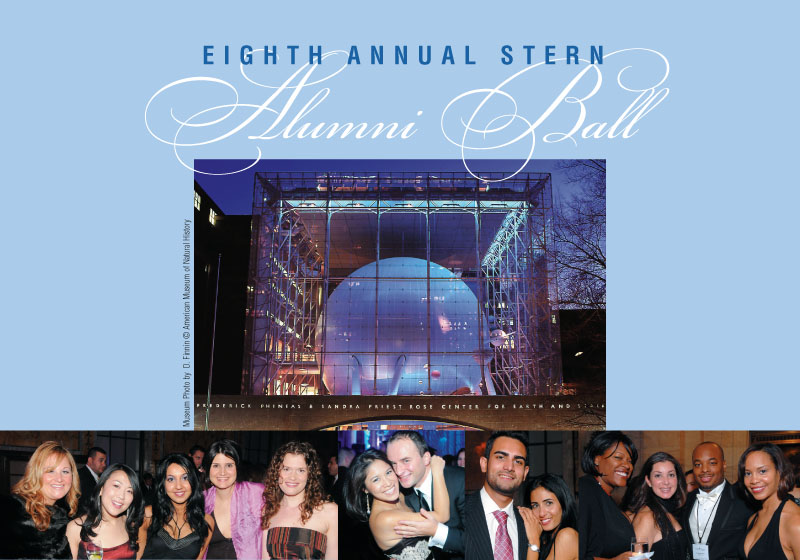 Saturday, December 6, 2008
8:00 PM - Midnight
Rose Center of Earth and Space at the American Museum of Natural History
81st Street between Central Park West and Columbus Avenue

Join fellow NYU Stern alumni in celebration of the holiday season at one of New York City's most spectacular landmarks.
Enjoy a private viewing of the Museum's Rose Center of Earth and Space, including the Big Bang Theater,
Heilbrunn Cosmic Pathway, Gottesman Hall of Planet Earth, and the Cullman Hall of the Universe.
Mix and mingle with both your former classmates and fellow graduates during a night filled
with music, dancing, a buffet, and cocktails. In addition to the festive atmosphere,
there will be quiet spots perfect for conversation with your friends new and old.
General Ticket Price:
Alumni from the classes of 2003 and prior (and their guests): $175 per person ($225 after November 3)
Recent alumni from the classes of 2004 - 2008 (and their guests): $125 per person ($175 after November 3)
At the door (alumni and guests): $300 per person
Visit the Alumni Ball website at www.stern.nyu.edu/alumniball for registration and event information.
While you're there, browse through photo galleries from previous Balls and read testimonials from fellow alumni.
Call the Office of Alumni Relations & Development at (212) 998-4040 for additional information.