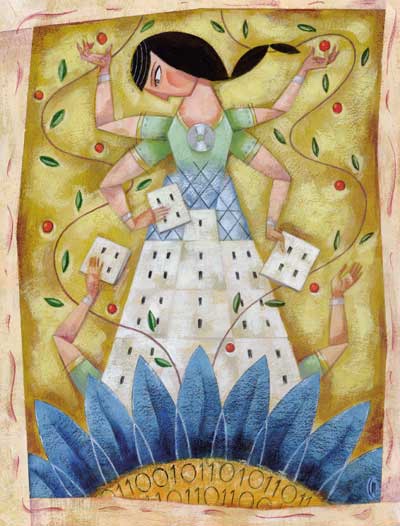 Infosys has emerged as a titan of the global software industry by carefully designing and constructing a unique corporate culture. Continued growth will test the quality and soundness of the company s architecture.
By Raghu Garud, Arun Kumaraswamy and Monica Malhotra

he software company Infosys is one of India s great business success stories. Infosys was founded in 1981, when seven professionals led by N.R. Narayana Murthy, currently the chairman and chief mentor, collectively invested $1000. Now, Infosys is the third largest company in India, with a market capitalization of more than $10 billion. Based in the emerging information technology (IT) center of Bangalore, Infosys in 1999 became the first Indian company to be listed on the Nasdaq. In a country where many companies have opaque financial statements, Infosys has voluntarily adopted stringent accounting practices. In a country where ownership and control of businesses have been concentrated in the hands of a few families, Infosys has distributed ownership and control broadly among its 10,000 employees, known as Infoscions.
But what most distinguishes Infosys is the way it systematically built up a post-modern, scalable enterprise for harnessing intellectual capital in the new information economy. Nandan Nilekani, Infosys s CEO and managing director, uses the term scalability to refer to Infosys s ability to grow from past experiences even while maintaining the integrity of operations. In a broader sense, scalability means Infosys can simultaneously increase revenues and profitability while growing across cultural value systems and value chains. This scalability is built into the company s DNA, and it pervades the way the company develops software, mentors employees, formulates strategy, and governs itself.

ndeed, this scalability has allowed Infosys to evolve continually. In particular, Infosys has created a malleable and responsive learning organization that continually uses its experience to replenish and transform its stock of resources and capabilities. In other words, Infosys is an organization that is perpetually in the making which is what it takes to succeed in the fluid, global, rapidly evolving IT industry.
Scalable Strategy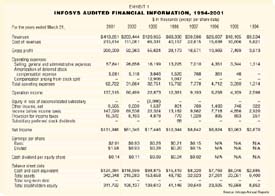 Professor Marti G. Subrahmanyam of NYU Stern School of Business, and an independent director of Infosys, pointed out that A key element of a strategy for survival and even rejuvenation in a downturn is a flexible financial framework within which a company operates. Infosys s PSPD Model that emphasizes predictability, sustainability, profitability, and derisking, is an integral component of such a flexible framework. These four strategic goals are, in turn, accomplished through a set of sub-models and guiding principles. For instance, the Customer Relationship Model, which emphasizes the creation of long-term relationships with each client, helps ensure the predictability and sustainability of revenues. More than 80 percent of Infosys s business is generated from repeat customers. The Global Delivery Model, under which a major portion of project execution costs is shifted from costly on-site client locations to relatively cheaper locations in India, plays an important role in ensuring profitability. Derisking is accomplished by, for example, limiting exposure to any specific client, domain or type of project to less than 10 percent of annual revenues, and by adopting a conservative financial policy that limits debt.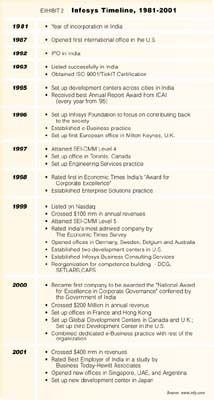 Of course, the PSPD model is not applied without reflection to address new challenges that continually arise. Models cannot replace human judgment, which is why Infosys has created several processes to study, review, and coordinate strategic initiatives and operational priorities. These processes unfold in several forums, including the Board of Directors, and the 57-member Management Council, which includes the board and department heads, as well as nine representatives from the younger generation at Infosys. The Management Council meets frequently to discuss market trends and any other issues of strategic/tactical relevance.
Even though Infosys departments enjoy considerable autonomy to develop and implement strategic and operational initiatives, the core implementation process is essentially the same across the company. Infosys also takes a measured approach to implementation. Usually, when we come up with a possible solution or a plan, we pilot it to see how it works, observed S.D. Shibulal, director of customer delivery: Then, we go back to the solution and correct it based on the results. We institutionalize the solution only after two or three such cycles. Infosys s ability to learn and adapt as it evolves is implicit in this approach. Here, scalability is evident in the ways Infosys encapsulates past experiences to shape future aspirations.
Developing Intellectual Capital

o company can execute strategies without the right personnel in place. And Infosys has taken great pains to recruit, train, and mold a scalable workforce. In the middle of Infosys s sprawling
Infosys City university campus sits an imposing structure where Infoscions regularly receive training. New employees enter a 14-week educational program. After this rigorous initial training, each Infoscion must undergo 15 days of formal training annually to upgrade technical and managerial skills. In addition to training Infoscions, the company s 50-faculty strong Education and Research Center (E&R) conducts research on new technologies and pilots them as they emerge. For example, E&R enabled Infosys to leverage the late 1990s corporate mind-shift towards e-commerce. Infosys s revenues from e-commerce related projects rose from a mere 1.7 percent of revenues in the first quarter of 1999 to 18.8 percent of revenues in the first quarter of 2000.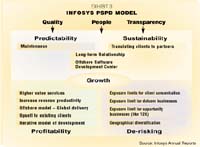 Intellectual growth is all-pervasive at Infosys. People learn from one another as they rotate from one project group or from one knowledge domain to another. When recruiting, Infosys looks for people with learnability the ability to derive generic conclusions from specific situations and then apply them to a general class of unstructured situations. Learnability is crucial to manage the rapid career progression. By 28, an Infoscion could well be a general manager, and by mid-30s, a director of the company, said Nandita Gurjar, associate vice president of Learning and Development. Those who have been rewarded are those who have been able to jump from one paradigm to the next.
Under the company s intensive mentoring process, Infoscions at every level groom and teach those under them. Top executives coach newly minted middle managers on the need to spend ample time on networking, interdepartmental socializing and meetings, fire-fighting and logistics administration. To design an effective leadership program, Infosys has established the Leadership Institute at Mysore, India.
Knowledge Management
For an entire company to be scalable, it must be able to leverage knowledge across all its employees. Learn once, use anywhere, as a key Infosys motto puts it. Infosys has now instituted an integrated approach to the management of knowledge. The vision is that every instance of learning within Infosys should be available to every Infosys employee, said Mahesh Venugopalan, a member of Infosys s Knowledge Management (KM) Group.
"What most distinguishes Infosys is the way it systematically built up a post-modern, scalable enterprise for harnessing intellectual capital in the new information economy."
The four pillars of Infosys s KM system people, content, process, and technology comprise the architecture that guides the creation, transfer, and reuse of knowledge at Infosys. Its origins can be traced to company efforts starting around 1992 to create Bodies Of Knowledge (BOK), which are nuggets of experiential knowledge on topics ranging from technologies and application software to adapting to new cultures. Dr. J. K. Suresh, principal knowledge manager, pointed out that such BOKs, and other reusable content, were created and reused in isolation within any given project context. But they lacked visibility as well as extensive use across the organization till the development and deployment of a formal, enterprise-wide KM system during 1999-2000.
Besides creating and recording internal knowledge, white papers, and re-usable code, the KM system affords Infoscions access to external content like websites and technology and business news. Eighteen different content types have been identified (BOK being one of them). Every item in the central KM repository is associated with one or more nodes (representing areas of discourse) in a
knowledge hierarchy and tagged to facilitate ease of submission, classification, and retrieval. Currently, approximately one fifth of all Infoscions have contributed at least one knowledge artifact to the central KM repository, and more than a thousand knowledge artifacts get downloaded by Infoscions for serious use every day.
Since practice units lack the time and resources to create domain or technology specific knowledge, Infosys created two internal consulting groups: the Domain Competency Group (DCG) and the Software Engineering & Technology Labs (SETLabs). The DCG covers industry dynamics and trends, key players, regulatory and accounting practices. SETLabs focuses on technology architectures to create frameworks that can be used by project teams and business units.

o sow the seeds for the emergence of new knowledge and competencies, Infosys created three new business units to focus on the emerging e-business, ERP solutions, and telecommunications sectors, and an engineering services group to offer engineering services focused on quantitative modeling. S. Sukumar, head of corporate planning, explained: Over time, people from these business units are moved around to other units to transfer competencies.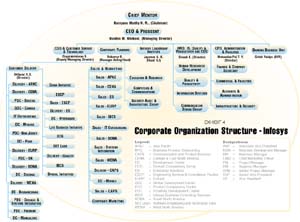 To facilitate the transfer of knowledge and a culture of sharing, Infosys developed an Intranet portal the K-Shop. If a question is posted on an electronic bulletin board that is part of the knowledge management system, it is not surprising to get several responses from employees across the organization within a few minutes. The KM group has created an application called the expert locator, which allows Infoscions to declare their specific expertise so colleagues may consult them when necessary. The KM group has also instituted formal mechanisms for the sharing of best practices across the company quarterly meetings of business managers, for example.
To encourage knowledge sharing, the KM group has instituted various rewards, recognition, and incentive programs. Specifically, Infoscions can earn Knowledge Currency Units (KCUs) for contributing, reviewing or using the BOKs or other knowledge assets. Another form of KCUs (termed the composite KCUs) also serves as a metric to assess content quality (as determined by the various attributes related to content usage, and ratings by users across the organization) and measure the effectiveness or benefits of the knowledge management program. Overall, the number of KCUs generated and distributed to employees currently more than 160,000 provides a clear indicator of the increasing level of knowledge sharing within Infosys, said C.S. Mahind, a member of the KM group.
Organizing for Global Delivery
"In 1998, Infosys decided to abandon its traditional strategic business unit structure in favor of a combination of geography and focused services based business units."
Infosys thrives on its ability to solve clients' problems that lie distributed across the globe with software solutions created in India. In 1998, Infosys decided to abandon its traditional strategic business unit structure in favor of a combination of geography and focused services based business units (also known as Practice Units (PU)). The three largest delivery units are located in the U.S., Infosys s largest market, which accounts for nearly 75 percent of its business. In keeping with Infosys s Customer Relationship model, a PU is responsible for its clients globally, even if the clients operations are spread across regions in other PUs. In addition to building close relationships with clients, this structure generates scale economies with support functions such as human resources and finance located in India.
Organizing for economies of scale does not necessarily result in scalability along the value chain, because PUs are purely oriented toward execution. Infosys has created structures and processes to address this challenge. The domain and technology specific knowledge that the DCG and SETLabs offer, combined with the relationship specific knowledge that PUs offer, generates value that is scalable across geographical contexts. Project teams are cross-functional with members possessing multiple, overlapping skills.

ventually, whether or not a company is scalable is determined not just by how its activities are partitioned, but also by the processes that integrate these various parts. If processes are static, the corporation may settle into an efficient structure that lacks evolutionary capabilities. But there is nothing static about the organizational routines that govern Infosys s operations. The best way to understand these routines is by examining the software development and deployment process. The Capability Maturity Model (CMM), developed by the Software Engineering Institute at Carnegie Mellon University, forms the backbone of Infosys s processes. CMM assesses the maturity level of a software development company s processes and methodologies on a scale of one to five. Each maturity level requires the organization to develop specific capabilities in certain key process areas. And Infosys is one of the few organizations in the world to be assessed at Level 5.
"Infosys reports its financial performance in compliance with the generally accepted accounting practices of seven countries."
An important component of CMM is the capability to learn, which ensures continuous improvement in processes. CMM generally emphasizes learning from experience and feedback. But Infosys learns not only from its own experiences, but also actively seeks to import relevant external knowledge. If there is something better, we are willing to learn, said S. Gopalakrishnan, COO and deputy managing director. We look at other organizations, study them, and then do it our own way.
The continuous improvement philosophy inherent in CMM has been institutionalized for the rest of the company in the Infosys Excellence Initiative. Using the seven criteria of the Malcolm Baldrige National Quality Award (MBNQA) framework, Infosys assesses its entire cross-functional supply chain to identify areas that need attention. In these areas, Infosys has enacted changes to improve quality and productivity using the 6-Sigma technique and the ISO 9001 initiative.
Inverting Traditional Hierarchies
Managing intellectual capital is challenging. Employees can influence a company s value proposition by determining the extent and quality of their intellectual contributions. As Chairman Narayana Murthy observed, Infosys s employees walk out of the door every day and it is the management s task to make sure that they come back.
The need to maintain employee loyalty has imposed demands upon Infosys s management. Bright, young people want to work in smaller companies. They don t want to be part of a team or work for a large company, said Chief Financial Officer T.V. Mohandas Pai. So, Infosys needs to retain the flexibility, speed, collegiality, and openness of a small company. Infosys attempts to do so by ensuring that decision rights remain with those who possess relevant knowledge its front-line workers.
Such an inversion of the traditional hierarchy is only possible if people assume the responsibility to use information to arrive at superior decisions. K. Dinesh, director of HR, Quality and Productivity, offered the following maxim as a guiding principle for decision making: In only God we trust. The rest of you bring facts. Infoscions are encouraged to challenge one another based on the facts they can marshal. As a result, the company culture itself is built around a dialectic tension where employees agree to disagree, thereby generating informed consensus.
What role can top management play if front line knowledge workers make most decisions? At Infosys, managers are part of a larger process of mutual mentorship, a process that the founders hope will create an institution that survives them. As we go up the corporate ladder, our role becomes directional, said Pai. Our philosophy and duty is to recruit people who are brighter than us and to mentor them. This paradox speaks to a deep sense of security among managers. On the one hand, Infosys managers deploy their considerable experience to guide those under them. On the other, they learn from the very employees they teach.
Transparency
Because investors are naturally wary of new economy companies, Infosys has proactively adopted the highest international financial standards. In 1994-95, it was the first Indian company to adopt stringent U.S. Generally Accepted Accounting Principles (GAAP) for financial accounting and to include complete and detailed disclosures of accounts and activities in annual statements. Also, it was the first Indian company to publish audited quarterly statements and release annual statements promptly after the end of its financial year. Now, Infosys reports its financial performance in compliance with the generally accepted accounting practices of seven countries.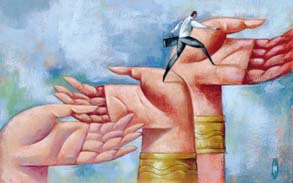 By embracing transparent practices, Infosys is compelling other large businesses in India to follow suit. As V. Balakrishnan, vice president of Finance, pointed out: We feel that transparency is a competitive advantage. Investors have more faith in a company that is more transparent. Infosys has leveraged its pursuit of transparency into an international brand. After embracing GAAP financial reporting standards, Infosys listed on the Nasdaq a strategic move that created a currency to be used for stock options and potential acquisitions.
To date, Infosys has grown continually by employing its resources as platforms for improving existing initiatives and launching new ones. In this sense, Infosys has demonstrated what it means to be a scalable corporation. However, this process will surely be put to the test as Infosys continues scaling across value creation activities and cultural value spaces. As Mr. Nilekani observed, The challenge now is to ensure that we are able to scale on all fronts the physical front, the global front as well as on the soft issues front. All this, while we are still able to retain the quality and effectiveness we had as a small company.
For example, Infosys would like to move up the value chain in the software services industry from low-cost project execution to high-margin end-to-end solutions. According to Balakrishnan, Infosys s dream is to get U.S. revenues at Indian costs. But doing so means that the iterative model of software development and close contact with clients will increase. Infosys will thus lose some of its flexibility to move higher-margin consulting projects off-shore. And as competition for programming talent increases in the global IT sector, salaries in India are also rising. That will pressure Infosys to raise its incentive and compensation packages, which will make it difficult for Infosys to maintain its profit margins.

nfosys executives believe that organic growth may be too slow in accomplishing the desired transformation. Therefore, Infosys is evaluating acquisition opportunities. But unless the potential target has a compatible culture, it would be difficult for Infosys to integrate the alien culture without disrupting its well-oiled processes and well-defined values. After all, any effort at integration would be Infosys s first.
Growth, coupled with geographic dispersion of employees, may also make it more difficult for Infosys to leverage its collective knowledge effectively. Given that more than 90 percent of Infosys s revenues accrue from outside India, any growth must be global in scope. As a result, employees may have to spend more time removed from their base in India. Not only does this impose enormous lifestyle and psychological burdens on remote employees, it also complicates the task of managing and monitoring them. Infosys is trying to tackle this problem by rolling out company-wide e-mails, newsletters, and magazines. Furthermore, Infosys trains its managers to manage and monitor their teams more effectively over distances.
However, as Infosys moves up the value chain and grows globally, the length of time spent by employees at customer premises will increase. Ms. Hema Ravichander, senior vice president of Human Resources, worried that this may dilute the Infoscion culture, values and processes, which may make it difficult for an increasingly global organization to configure and integrate its systems, processes, and business units effectively. Such geographic dispersal and loss of identity may also make it difficult for Infosys to develop leaders with a common purpose to manage for the future.
The two faces of the Greek God Janus symbolize an end as well as a beginning. If one were to apply this image to Infosys, the promise of scalability lies in Infosys's ability to continually evolve from the very platforms it creates. Outcomes and processes are so intertwined that any end state is but a new beginning. It remains to be seen whether this promise will continue to hold as Infosys becomes a legitimate player in the global market.
Raghu Garud is an associate professor of management at NYU Stern.
Arun Kumaraswamy, Stern Ph.D. 1996, is assistant professor of management at the Rutgers University School of Business, Camden.
Monica Malhotra is a Stern MBA 2001.