Rebecca Schaumberg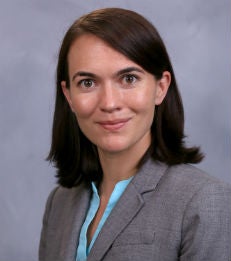 Biography
Rebecca (Becky) L. Schaumberg joined New York University Stern School of Business as an Assistant Professor of Management and Organizations in September 2013. She teaches "Management and Organizational Analysis."
Professor Schaumberg's research focuses on the individual and intergroup characteristics that promote and impede people's leadership success. She asks the following types of questions in her research: (1) How might a tendency to feel guilt for everyday mistakes influence how hard people work and how effectively they lead? (2) How does a desire to feel moral affect the resource allocation decisions that leaders make? (3) How do women overcome negative gender stereotypes to obtain leadership positions?
Professor Schaumberg's research has been published in leading management and psychology journals including the Journal of Personality and Social Psychology and the Journal of Applied Psychology. It has also been covered by a variety of media outlets including The Wall Street Journal, the BBC and Forbes.
Professor Schaumberg received a B.A. in Psychology from Carleton College in Northfield, Minnesota, and a Ph.D. in Business Administration from Stanford University.
Research Interests
Leadership
Gender anddiversity
Moral emotions
Courses Taught
Management & Organizations
Academic Background
B.A., Psychology
Carleton College
Ph.D., Business Administration
Stanford University
Selected Publications
Schaumberg, R.L. & Flynn, F.J. (2012)

Journal of Personality and Social Psychology, 103, 327-342
Flynn, F.J., & Schaumberg, R.L. (2012)

Journal of Applied Psychology, 97, 124-133
Knowles, E.D., Lowery, B.S., & Schaumberg, R.L. (2010)

Journal of Experimental Social Psychology, 26, 420- 423
Knowles, E.D., Lowery, B.S., & Schaumberg, R.L. (2009)

Journal of Experimental Social Psychology, 45, 965-969
Schaumberg, R.L., & Flynn, F, J. (2009)

In S.R. Thye & E.J. Lawler (Eds.) Advances in Group Processes, Vol. 26 (pp.105-132). London: Emerald
Areas of Expertise
Management
Diversity
Leadership
Organizational Behavior